What to Look for When Buying a Used Wheel Loader

Whether you call it a wheel loader, front-end loader or bucket loader, this piece of equipment is highly versatile and a must-have at most job sites. With a single investment, you get a machine that can lift, haul and transport materials across distances. Wheel loaders also have an articulating body that makes it easy to handle different applications and terrain.
Buying a used wheel loader can be a great option to save money and get more out of your investment — here's what you need to know.
Different Types of Wheel Loaders
Wheel loaders are listed based on their capacity, weight and horsepower, as well as what kind of terrain and projects they are equipped to handle. Generally, these fall into three categories:
Small loaders: Also called mini or compact loaders, they have a smaller footprint and are suited for lighter loads. They're common in agriculture and landscaping fields.
Medium-sized machines: Sometimes called standard size, they have more power than their smaller counterparts but are more compact than industrial rigs. You'll find them at many construction and forestry sites that require general earth and material moving.
Large wheel loaders: These are considered industrial-sized and have powerful engines equipped for heavy loads and tough terrains, such as mining sites.
How to Buy a Used Wheel Loader
Shopping used equipment can be very beneficial for your bottom line. While you save on the initial purchase price, you can also generally expect lower insurance costs and a slower depreciation rate than with a new model. Buying a used machine doesn't mean compromise — today's market offers a vast inventory of models and features to choose from, so you can pick what's most important to you.
You have two options when purchasing a used wheel loader: private sellers and used equipment providers. Private sellers are typically individuals selling their own machines, while used dealerships carry an inventory of various equipment, parts and attachments.
Shopping with a used equipment provider is the safest option, as it comes with a level of quality assurance you can't get buying from an individual. Dealerships may offer warranties and specials, and you're not limited to one machine's specs. It's also helpful to have an organized point of contact to ask questions and learn about the machine's service history.
How Much Does a Wheel Loader Cost?
A wheel loader's cost depends on a handful of factors, including:
Age
Hours of operation
Condition
Size
Additional features
Included attachments, if applicable
Type of tires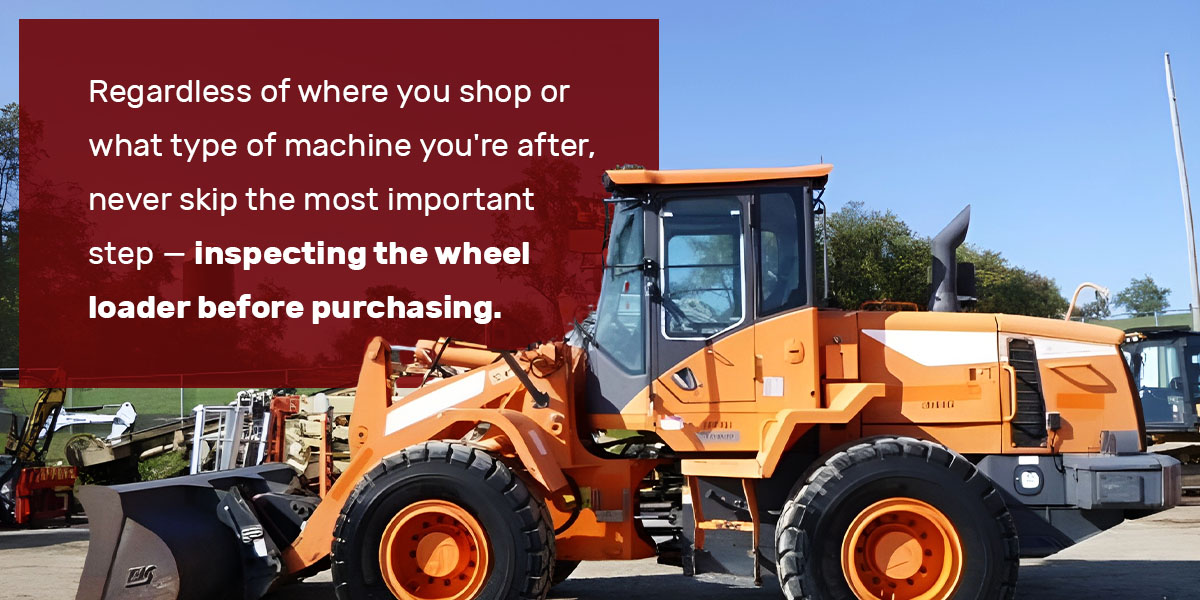 Questions to Ask During a Wheel Loader or Equipment Inspection
Regardless of where you shop or what type of machine you're after, never skip the most important step — inspecting the wheel loader before purchasing. You want to know as much about the machine as possible to avoid any surprises and ensure you get the value you pay for.
Here are some questions to ask:
How old is the machine, and what are its current odometer hours?
What were the machine's previous applications?
What is the maintenance and service history?
When was the last service date?
Does this machine have all its original parts? If not, what type of replacement parts are installed?
Are replacement parts available if necessary?
What technology or special features does this machine have?
Has it been inspected to meet specific quality standards?
Are there any warranties available?
What is your return policy?
What is this loader's horsepower and load capacity?
What else should I know about this machine?
How to Inspect a Wheel Loader
Knowing what to check during an inspection could mean the difference between buying a machine that doesn't meet your needs and investing in a reliable loader that will get the job done for years to come. Any reputable seller will allow for a machine inspection, whether that's in person or through pictures and videos.
Follow this checklist when completing your inspection:
The bucket and teeth should be intact, and all linking points should be structurally sound.
Note any frame damage, including dents, scratches and rust.
The coupling system should have adequate, secured pins, rods and bushings.
All lift arms and cylinders should be intact.
The hydraulic system, including the cylinders and hoses, should be free of leaks or damage.
The engine and radiator shouldn't have loose belts or oil leakage.
Air filters should be free of buildup.
The center articulation point under the cab should be secure and free of damage.
Note the condition of the tires, wheels and rims, including any rust and worn tread.
Check all current fluid levels.
Inspect the cab's interior, including the seats, windows, controls and air conditioning, if applicable.
Consider performing an operational test, which gives you the opportunity to notice any unusual sounds, exhaust smoke, leaks or alarming smells. You can also get a better feel for how the machine performs and whether there's any pushback or lag.
What to Consider When Buying
Before going into a sale, it's helpful to know what you need out of a wheel loader and what to expect once you've got it. Keep this information in mind while making your decision:
The machine's hours: Heavy equipment ages based on its total usage hours. Around 10,000 to 12,000 is generally considered a lot of hours for a wheel loader.
The machine's size: What size loader you need depends on your typical job applications and work site. Wheel loaders are sized based on their total weight, operating weight, bucket and load capacity, tire size and tread depth, and tipping load. If you expect to perform a variety of jobs with the same loader, choose a size that accommodates your most demanding application.
Typical work site: Consider your typical work site's terrain, including any sensitive earth or challenging conditions. You should also think about how much you expect to move the machine while using it. Will it stay in one place most of the time, or do you anticipate a lot of travel? Will you need to navigate any clearances or tight spots?
Control pattern: Loaders come in varying control patterns, which refers to the hand that controls the stick and bucket and the one that controls the swing and boom. Some machines offer both options.
Initial and ongoing costs: Consider the cost of wheel loader maintenance — including replacement parts like tires, attachments and general upkeep — in addition to the initial purchase price. You'll also need a place to store your wheel loader when not in use, such as a secure warehouse or similar.
Operator training: What additional training will operating personnel need in order to handle your wheel loader? They should feel comfortable with the brand and the machine's size and weight. Take time to familiarize your team with all updated safety procedures and operating guidelines.
Reputable seller: Choose a seller with a positive reputation and plenty of reviews by verified buyers. You want to shop somewhere that stands by its products and is happy to provide inspections or product warranties.
Attachments: Which attachments is the wheel loader compatible with? Will you have to replace any of your current models?
Special features: List any special features you'd like to have, like an air conditioned cab or auto wheel torque control.
Brand: Unless you're looking to diversify your fleet, the best brand for wheel loaders is generally the one you're most familiar with, assuming you're satisfied with its performance.
You'll also need a plan for how to transport your wheel loader to the work site or storage facility, including loading and unloading the machine. Consider outsourcing equipment transportation and on-site rigging to a team of professionals to keep your investment safe and save yourself the time and costs associated with heavy-duty transfer.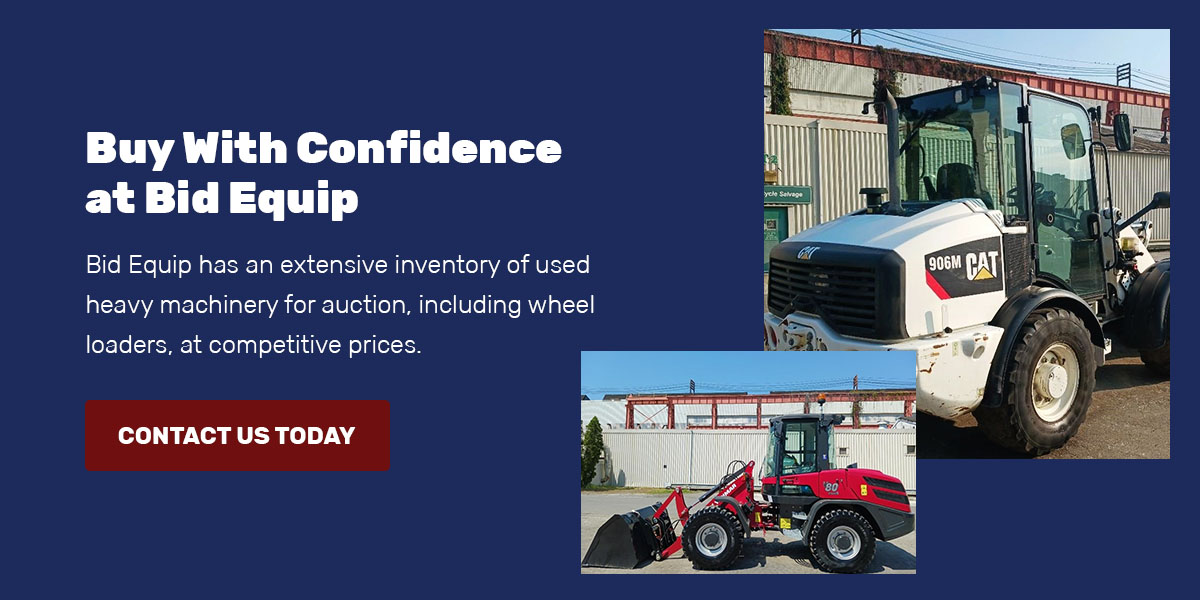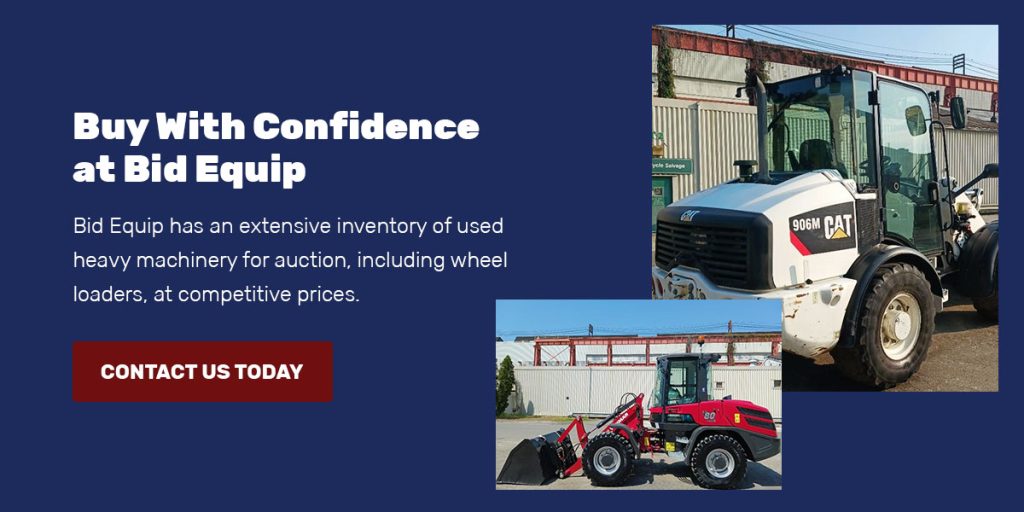 Buy Your Wheel Loader With Confidence at Bid Equip
Bid Equip has an extensive inventory of used heavy machinery for auction, including wheel loaders, at competitive prices. All of our equipment listings include detailed specs and pictures and videos of the machine. We also invite you to complete an inspection in person before placing your online bid.
Browse upcoming equipment auctions or contact us to learn more today.
Share: