Container Loading Services
Container Loading (and Unloading) Equipment
For heavy machinery, loading and unloading is a time-intensive process that comes with safety risks, as well as damage hazards to your equipment. That's why it's critical to partner with a reputable provider of loading and unloading services in your service region. For companies across the tri-state area, Equip Trucking & Warehousing, LLC is the trusted choice. We deliver excellent customer service that comes from more than 30 years of industry experience.
Industrial Crating and Packaging
Offers crating and packaging services as well as industrial shrink wrapping to protect your equipment. Our crates and packaging are expertly crafted and designed personally by our professional team of machinery moving experts for your specific needs. Our industrial shrink wrap is a specially formulated polyethylene plastic that is designed to shrink when heated, snuggly fitting to your equipment to protect it from moisture and debris. Our industrial crating, packaging and shrink wrapping services are all custom tailored to your needs. We provide crating, packaging, and shrink wrapping of nearly any commodity size and type.
Overseas Container Loading (and Unloading)
We have experience loading, unloading, and shipping to and from destinations all over the planet. We understand your needs and always provide a personalized and expedited service for whatever your needs may require. Let our professional staff load, unload, or package your equipment with the confidence and security of one of the leading overseas container management companies on the east coast.
Benefits of Loading and Unloading Services
We offer several advantages as a leading provider of industrial machinery warehousing services including:
Superior customer service
Expert team members
High-quality equipment fleet
Custom solutions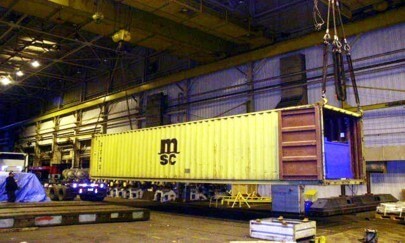 Contact Bid Equip for Container Loading Solutions