Guide to Heavy Equipment Appraisal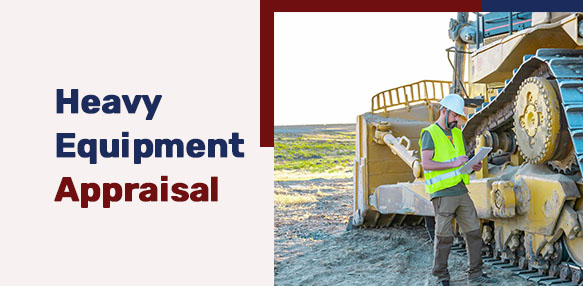 There are many different things to take into account when doing an expert equipment appraisal. At Bid Equip, we strive to give you the best possible price to support the intent of your appraisal request.
There can be many different reasons why you want to get an appraisal, so our team employs a variety of strategies that can be utilized to meet your specific needs. Our professional appraisers have great experience to help you make this process go smoothly. Learn more about what goes into our heavy equipment appraisal process and what we can do for you.
How to Determine the Value of Used Equipment
We use an appraisal process that accounts for many different factors and circumstances before coming to a conclusion on value. When determining the used equipment's worth, we first determine the manufacturing date and model number to find out how old it is and its expected service life. Model numbers can tell us if the specific unit identified has any modifications or features that can increase the value, as well as if there are any known performance issues or recalls.
The equipment's condition and maintenance record are common factors considered when determining value. To help present it in its best light, it's best to have the equipment serviced regularly until you are ready for the appraisal, keep the tires aired up and store the machine inside to prevent the accumulation of rust. You might also consider giving it a fresh coat of paint. Additionally, having the maintenance records available can help make the valuation process quick and smooth, saving you money on the appraisal.
Other factors that go into determining the value of your equipment include the state of the economy, how the construction market is performing and the value of similar machines. These elements play a huge role in valuation, so you may want to strategically think about the timing of your appraisal request.
What Is the Purpose of Valuation?
There are many different reasons why you might request used equipment appraisal services:
Buying or selling
Insurance claims
Corporate planning
Financial reporting
Mergers and acquisitions
Litigation or bankruptcy filing
Property tax assessment
Depending on your reason for the construction equipment appraisal, your appraiser will likely use a specific method of valuation that applies to your unique situation. For instance, large public companies often have their assets appraised for compliance with the Sarbanes-Oxley Act of 2002, which protects investors against fraudulent financial reporting.
Main Methods for Valuing Used Equipment
There are three main methods of valuation for construction equipment appraisals — sales comparison, the cost method and the income method. When appraisers use the sales method, they gather information and study the market on new and used equipment to determine pricing. Appraisers can look to manufacturers, dealers, other auction houses or trade publications for pricing insights. The equipment's age, condition and remaining life are all taken into account with this method to generate a pricing estimate.
The cost method is used for unique or customized equipment with relatively little market demand. The replacement cost of a new model is taken into account, as well as your machine's depreciation, remaining life and condition. The income method values the equipment at the level of income it provides, so it is used when the piece of equipment is clearly connected to the revenue stream and yields contributions that can be tracked easily.
Additional Valuation Procedures
Other valuation methods related to buying and selling include:
Fair market value, which involves two willing parties agreeing to pricing terms.
Orderly liquidation, which relates to estimating the gross amount the equipment could be sold for with a reasonable amount of time to find a buyer for liquidation purposes.
Forced liquidation, or selling the equipment immediately for an estimated gross value.
Orderly and forced liquidation are usually associated with bankruptcy.
Valuation efforts that involve insurance are:
Actual cash used
Replacement cost new
Reproduction cost new
Which one you use will depend on your insurance policy and may affect your premium. If you will continue to use the equipment, you may need to have it valued regularly for financial or corporate planning. In this case, it is most common to appraise it according to fair market value.
The Heavy Equipment Appraisal Process
The appraisal process is not overly long, but it can be intensive. Therefore, having all of your information ready for the appraiser may streamline the process and save you money. First, you must have clear intent and know why you are getting your equipment appraised. It is helpful to have a report of all available pricing options and any paperwork associated with the original purchase.
Next, we determine the manufacturer, model number, serial number, hours or miles, specifications and maintenance history. This data will give us the necessary information to determine the equipment's market value. When moving forward with the process, we must discuss the best valuation method specific to your appraisal intent.
After choosing your desired method, it is time to begin inspecting the equipment by gathering data from a centralized database on productivity, repairs, maintenance records and more while physically inspecting the equipment itself.
After the construction equipment appraisal is complete, our appraisers will create an appraisal report that follows the Uniform Standards of Professional Appraisal Practice (USPAP) guidelines and ensures compliance with the standards set by the Internal Revenue Service, the Small Business Association and other relevant organizations.
Top Benefits of Equipment Appraisals
There are a number of benefits to having heavy equipment appraised. During financial planning periods, an accurate, recent appraisal allows you to keep track of how much your equipment is really worth at that point in time, and it can assist you in securing a loan from the bank with your equipment as collateral. Since business expansions are commonly funded by such loans, knowing how much you can get with the assets you have on hand lets you plan with precision.
Appraisals can also be critical when getting insurance, as knowing what your heavy equipment is worth ensures you can get adequate coverage for it. It's also a great benefit to have proof of its value from an expert in the event you decide to sell, as you will know when you have a reasonable offer in hand.
Bid Equip Equipment Appraisal Services Can Determine the Value of Your Assets
At Bid Equip LLC, we have professional appraisers who will work at your side to ensure a smooth, productive appraisal process. Our equipment appraisal experts will come to your location, inspect your used and surplus assets, and provide you with an honest and accurate estimate of the price you could expect at auction. To find out what your heavy equipment is worth, contact our team online or call 484-494-6846 to schedule an appraisal today!
Share: