What Is a Machinery Consignment Auction?

Your construction equipment is one of your company's largest assets. If the time ever comes to sell some of your equipment, you'll want to sell it for as much as possible, so you can get the highest return on investment.
As you navigate construction equipment sales, you'll find there are more options than trying to find the right buyer yourself. Construction material consignment is an effective way to sell your machinery while enjoying several benefits throughout the process.
What Is Construction Consignment?
Construction consignment is a process in which a third-party auction consignment company helps you sell your heavy equipment. The dealer takes over the process for you, working in their network of buyers and researching the market to sell your equipment for the highest possible price. For many companies, especially first-time sellers, this option is highly beneficial.
Here's a step-by-step process of how it works:
You partner with a dealer who specializes in selling big-ticket items like heavy construction equipment and smaller items including attachments, tools and compact construction equipment.
The dealer takes possession of your machinery, but you maintain full ownership of it — they simply act as a liaison.
The dealer showcases your machinery to potential buyers while trying to fetch as high of a price as possible.
Once your item gets a buyer, you and the buyer finalize the sale according to the final agreed-upon price given by the dealer.
The dealer gets a percentage of the sale price as payment for their services.
Benefits of Heavy Equipment Consignment
When you sell your heavy equipment through construction material consignment, you can enjoy the following benefits:
1. Save Effort and Time
Selling on your own requires significant time and resources for advertising, meeting with prospective buyers and transporting the equipment after the sale. When you sell through equipment consignment, the dealer handles all the marketing and logistics for you so you can focus on other tasks.
2. Access an Expanded Market
When it comes to selling your equipment on your own, you must wait for the right buyer to see and respond to your ad, which can be difficult if your area of reach is small. Equipment consignment dealers have a market that can reach national and international markets. With such a broad reach, they can find the right buyer for your equipment much faster than if you tried to sell it independently.
3. Stay in Control
Even after you hand your equipment over to the consignment dealer, you maintain full control over the sale until finalization. Your dealer will recommend a sale price based on current market values, but you still have the last word when it comes to the chosen sale price. This level of control ensures you can sell your equipment at a fair price while reducing your risk level.
How to Prepare Your Equipment for Consignment
Part of the consignment process is having the dealer give you an appraisal of what they think your equipment is worth. To get the most accurate price estimate and appeal to more potential buyers, you must properly prepare your equipment for resale.
Here are some of the best practices for prepping your equipment for consignment:
Research the market for your machine to get an idea of how much money you can reasonably get.
Test the machine to make sure it's functional.
Clean the cabin and any storage areas.
Wash the equipment's exterior, including windows and mirrors, to remove any accumulated grime or dirt.
Remove all company decals and stickers from the machine's exterior.
Check fluid levels, topping off any fluids that are low.
Make sure the machine is up to date on all its maintenance needs.
After taking these steps, you should gather a list or manual of your machine's specs, which can be helpful throughout the selling process. The more information you can provide about your machine, the more likely you'll find interested buyers, as they'll know exactly what to expect if they purchase it.
Popular Machinery to Buy on Consignment
Buyers look for specific kinds of heavy machinery, compact equipment, accessories and more when shopping consignment. If you're looking to make some extra money for your business, these are the most popular kinds of machines to consider selling:
Old machinery: If you have old machinery that needs replacing, consider putting it up for consignment. There could be another construction company out there that views your machine as an upgrade to what they have, or they may need it in a pinch to complete a task while staying on budget.
Stationary machinery: Do you have machinery sitting around that you don't plan to use in the near future? Instead of letting it sit there unused, make some money by selling it through consignment. Lightly used equipment can fetch a hefty price on consignment.
High-demand machinery: One way to make some quick money for your business is to sell an item you know is in high demand. Keep your ear to the market to know when it might be a viable time to sell a certain piece of equipment. This way, you can earn a profit.
While the above kinds of machinery may attract more buyers, you can essentially list any kind of equipment for sale, so don't hesitate to explore consignment if you'd like to make some money from your machinery.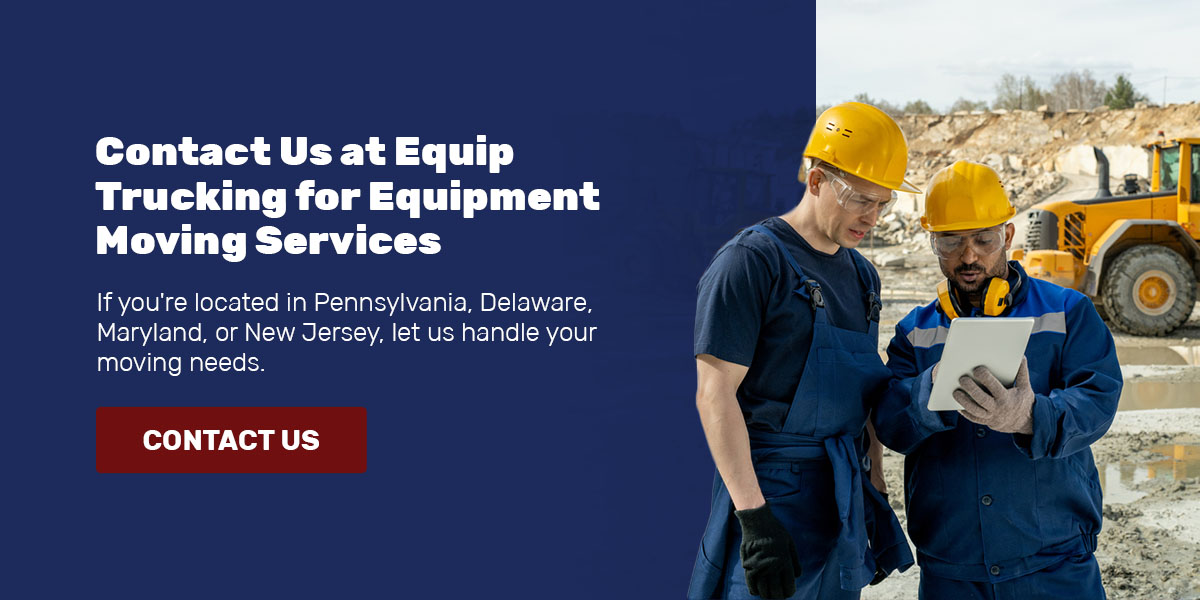 Contact Us at Equip Trucking for Equipment Moving Services
Whether you decide to sell your used equipment independently, use an online consignment option or go straight to an in-person consignment dealer, you'll need to move your equipment from point A to point B to complete the sale. That's where Equip Trucking comes in.
We specialize in moving heavy machinery for the construction industry, and we have the industrial rigging capabilities to move large, heavy equipment. If you're located in Pennsylvania, Delaware, Maryland, or New Jersey, let us handle your moving needs.
We offer a full line of services that include equipment transportation, machinery moving, rigging, loading, unloading, warehousing and more. If you're ready to take the next step toward achieving your goals for moving your heavy equipment or have any questions about how we can help, contact us today.
Share: