Heavy Equipment Inspection Checklist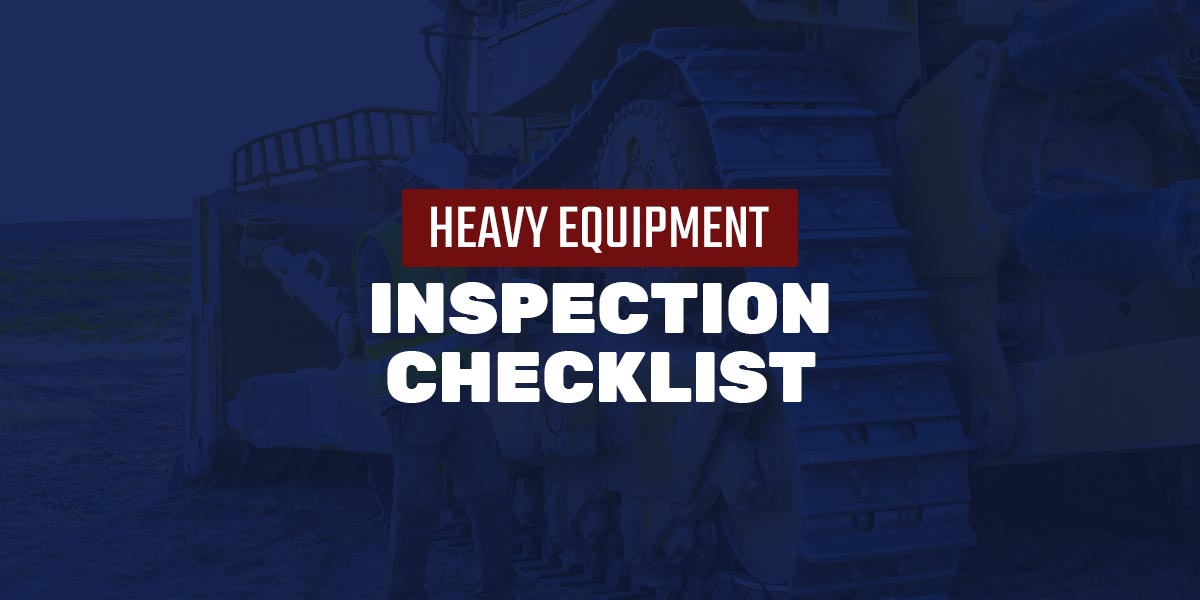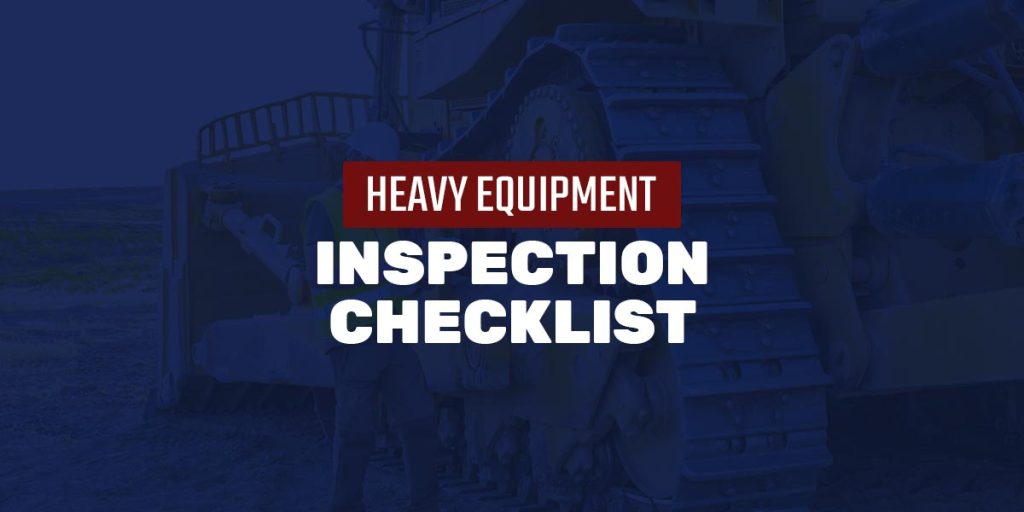 An equipment inspection checklist can help streamline the inspection process and ensure a safe workplace for your employees. Regardless of how your business uses your equipment, preventive maintenance helps you mitigate issues before they become hazardous.
Benefits of an Equipment Inspection Checklist
A heavy equipment checklist helps employees use the equipment properly and safely. Many machines may become unsafe without maintenance, leading to severe workplace injuries or expensive repairs due to faulty equipment. While there are many benefits to creating an inspection list, some main reasons workplaces utilize standard procedures are to prevent accidents and save money.
In 2020, the Bureau of Labor Statistics reported that there had been more than 4,700 fatal workplace injuries. The number of injuries that occur throughout different industries has encouraged business owners and operators to preemptively check equipment. By watching and listening for safety hazards, a company can help keep employees safe and work to build a stable and well-paced environment.
The possibility of saving more money is another reason businesses use inspection checklists. Finding a replacement piece of equipment for a broken machine can be expensive. Buying a new or used machine could be even costlier. But inspecting your equipment daily could prevent you from having to replace your equipment early. A daily inspection will help your business and workers point out areas of concern and schedule the parts for maintenance, helping you save money on replacement costs.
Saving money and preventing injuries are not the only benefits. Other positive outcomes of following a checklist include:
Failure avoidance: Inspection can decrease the chance of sudden machine failures.
Fleet availability: Businesses with heavy equipment will have more machines available.
Smaller downtime: Less time will be spent trying to fix or replace equipment.
Longer life span: Equipment will last longer with inspections that can detect problems before they become more significant issues.
Reliability: Businesses can depend on heavy equipment that has been thoroughly checked before usage.
Increased resale value: When it comes time to resell, inspected equipment will fetch a better price.
Fewer replacements: A company can rely on equipment that won't need replacement parts very often.
Reduced operating costs: The cost of using heavy equipment decreases when you inspect the parts daily.
Safer equipment: Equipment is safer when inspected for any possible safety hazards.
Less wear and tear: Heavy equipment will experience less wear and tear over time.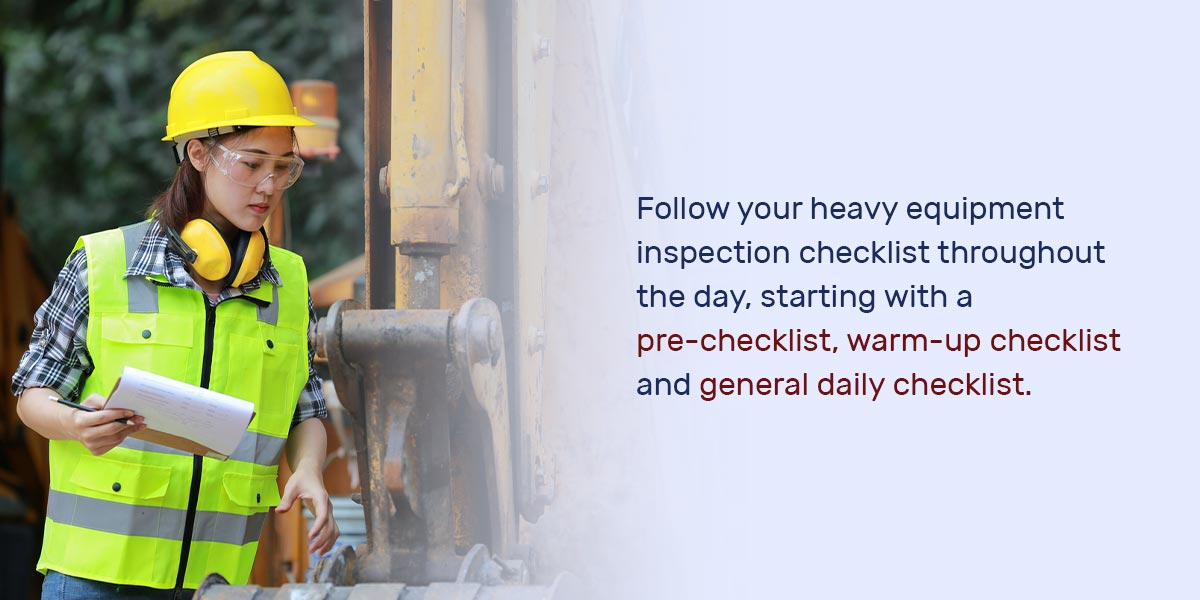 Daily Inspection Checklist
Follow your heavy equipment inspection checklist throughout the day, starting with a pre-checklist, warm-up checklist and general daily checklist. Follow each step to ensure the equipment is safe for usage.
The Pre-Start List
A pre-start checklist ensures the heavy equipment is safe for workers. Before anyone begins to use the machine, complete these steps:
Park the equipment: Park the equipment in a safe area free from hazards or debris.
Address hazards: Look for overhead or tripping safety hazards beneath the equipment.
Check the seatbelts: Insert the seatbelt into the buckle and tug on the belt to see if it works.
Check the parts: Check for worn, torn or loosened parts.
Watch for leaks: Puddles or wet spots may be underneath the equipment.
Inspect fluid levels: Test all the fluid levels and the windshield washer fluid.
Look at the undercarriage: Rollers may be missing or worn, and you should check the track tension and excavators.
Check the oil level: Test the oil levels to be sure you don't need an oil change.
Inspect the engine: Check the engine for leaks, oil pressure and misplaced guards, covers, hoses and belts.
Check the engine support: The springs, equalizer bar and shackle bolts should be secure.
Check the idlers and sprockets: Look for cracks in the spokes and ensure there are no welds.
Inspect the gauges and lights: The speedometer should work correctly. Lights should be properly mounted.
Look at the tires: Clear the tires of debris and check for nails, screws, cuts, sag or holes.
Check the rims: Look for damage and replace bolts and nuts as needed.
Secure the valves: Secure the caps in place.
Turn the steering wheel: If the steering wheel does not turn, it may need fixing.
Check the belts: Belts should be free of splits or cracks.
Check the hoses: Inspect hoses for holes, pinches or open areas.
Test the suspension system: If the suspension vibrates, bounces or makes an unusual noise, it may need replacing.
Test the battery: The battery should be connected and charged. Look at the cables, connections and clamps.
Inspect the fan belts: Check for cracks, frays or tension.
Check the cooling system: Look for leaks and other damaged parts.
Mount the radiator guards: The radiator guard and belly plate should be free of debris and properly mounted.
Look at the fuel system: Check for leaks and other damaged parts.
Inspect the cab condition: Check the horn, wiper blades, seat belts, mirrors and glass parts.
The Warm-Up List
After the heavy equipment has warmed up for a few minutes, complete a warm-up checklist before operating the machine:
Check the alarm: Test that any alarm systems work before using the machine.
Test the horn: Before using the equipment, check the horn and test how loud it is.
Clean the air filters: Clean or replace the filters as needed and pay attention to unusual noises and warning signs.
Inspect the lights: Look at the brake, signal and headlights, backup lights and other light features.
Test the hydraulics: Inspect the hydraulic systems and lines and look for irregular noises.
Check fluid levels: Look at the hydraulic oil, the steering tank, engine coolant and swing drives.
Test the brakes: Make sure the brakes work correctly and replace brake pads as needed.
General Daily Operating Checklist
When operating the machine, employees should perform daily inspections to ensure the equipment is still safe to use. Follow these steps during your daily operating checklist:
Look for unusual noises: Strange noises may indicate significant issues that need addressing.
Monitor the gauges: The gauges should be at safe levels at all times.
Check for vibrations: Excessive vibrations may indicate that a part needs replacing.
Look for changes in performance: If a part of the machine is not working like usual, it may need replacing.
Heavy Equipment Shutdown List
A shutdown checklist helps ensure the heavy equipment works even after it has stopped working for the day. Complete these steps to clean and park the machine after shutdown:
Fill the fuel tank: Ensure the tank is filled with fuel.
Let the engine idle: After shutting the machine down, let it sit for a few minutes to cool down.
Park the equipment: Place the machine away from trees or debris.
Clean the equipment: Wash the equipment to prevent buildup or damage.
Heavy Equipment Recommended Preventive Maintenance
Preventative maintenance and scheduled check-ups can help locate issues before they become hazardous. Many check their equipment at a standard set of hours:
250 to 500 hours: Change the oil, engine air and fuel filters. The quality of your machine's oil and filters will tell you the reliability of the equipment.
1,000 to 1,200 hours: Replace the coolant and cabin air filters. Check the air dryer to test if it may also need to be replaced.
4,800 to 5,000 hours: Check the radiator, hydraulic tank, bushing and pins. Replace parts as required. Perform service on the transmission.
Other Maintenance Tips
Besides daily inspections and preventive maintenance, you can do a few other things to maintain your heavy equipment. Pinpoint why your equipment may break down by understanding sudden, intermittent and gradual failures:
Sudden failure: A machine stops without any warning.
Intermittent failure: A machine stops at random times.
Gradual failure: A machine fails over time. This is often preventable with consistent inspections.
Read your engine's manual or handbook to understand when to service the machine and what products to use. Your operators should be fully trained on how to handle the machine. Keeping a history of your documents will also ensure you know when you did the last maintenance, repair or inspection and what the machine may need.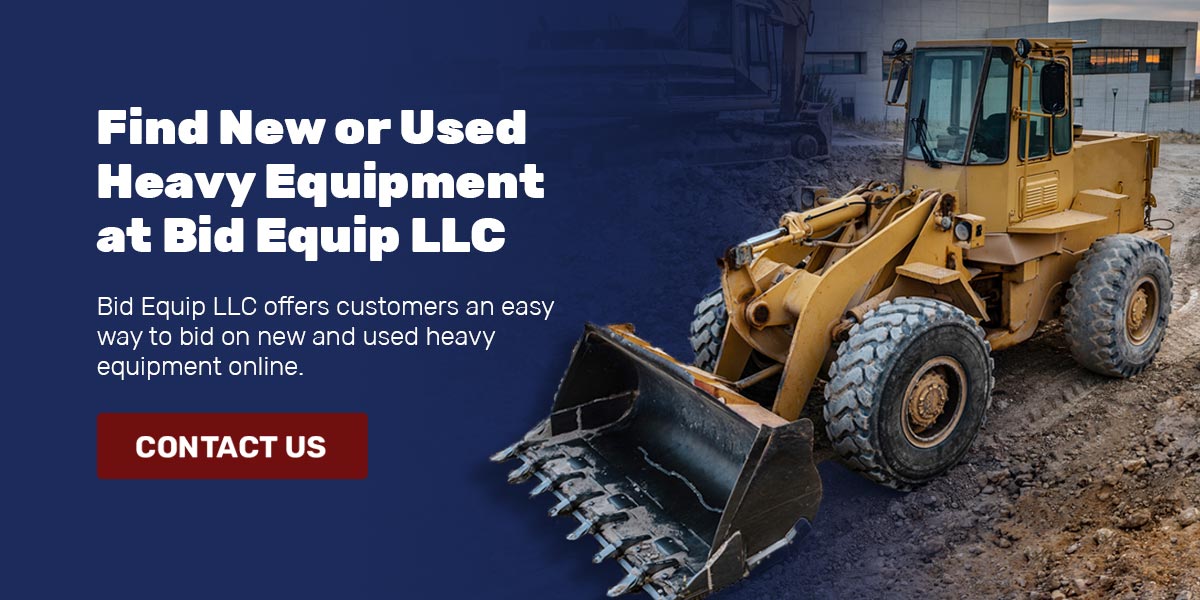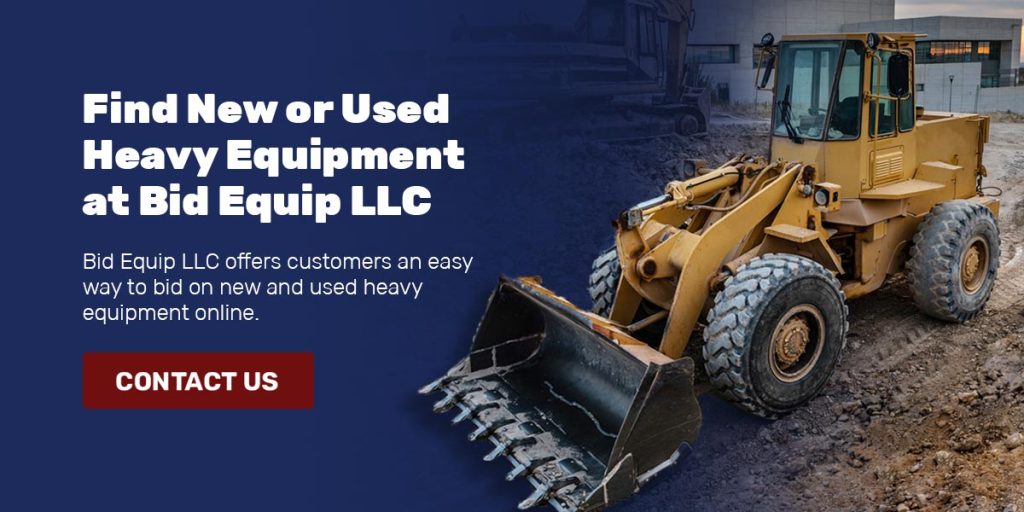 Find New or Used Heavy Equipment at Bid Equip LLC
Bid Equip LLC offers customers an easy way to bid on new and used heavy equipment online. We make it simple to find quality machines at a great price and create a reliable atmosphere for businesses that want more heavy equipment. Browse our current selection and bid during our monthly auctions. Bid Equip also assists you in the pickup and delivery process once you've found the machinery that fits your needs.
Contact us today to speak to a Bid Equip representative, or call us at 484-494-6846.
Share: