What to Look for When Buying a Used Boom Lift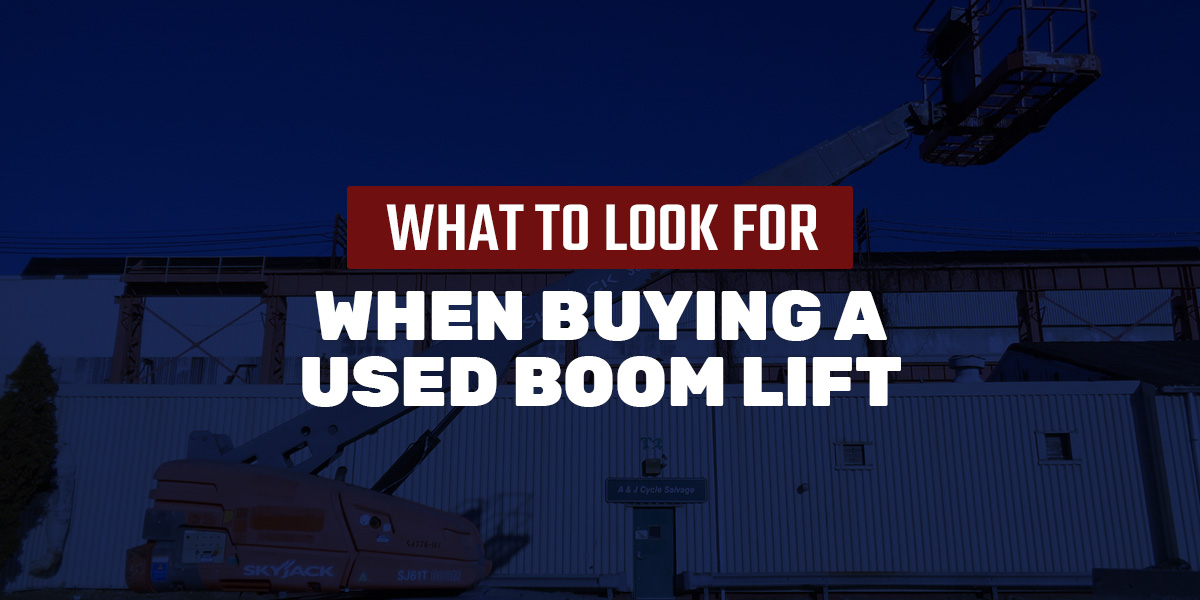 Boom lifts are a type of aerial lift equipment that can come in handy for a wide range of applications, ranging from roofing to mining to electrical repairs. These machines are also known as man lifts, basket cranes and cherry pickers. If you want to purchase a used model, there are some considerations to remember.
We are breaking down everything you need to look for when adding a used boom lift to your fleet.
Finding the Right Type of Boom Lift
If you are interested in adding a boom lift to your fleet, it is important to consider the different types available.
There are two main types of boom lifts on the market today — articulating and telescopic models. The arm on an articulating boom lift features joints that allow the machine to maneuver and extend with more flexibility. This type can move in both vertical and horizontal directions.
A telescopic boom lift has an arm that offers greater reach as it extends in a straight line. They tend to have longer reach than articulating models and are ideal for applications at high heights. Other boom lift types include towable models that fit in a truck bed and bucket trucks with boom lift arms mounted to them.
You'll also need to factor size into your buying decision when exploring the best-suited options for your project needs.
Used Lift Equipment Cost Expectations
You can enjoy significant savings by buying a towable boom lift used rather than brand new. The following are key factors that contribute to the price of a used boom lift:
Type: Articulating boom lifts tend to be slightly less expensive than telescopic models. Consider the kinds of projects you'll need your man lift for and which type is best suited for those applications.
Weight capacity: You can expect to spend more on a used boom lift with an increased weight capacity. This is an essential factor because you'll never want to exceed the weight limit constraints.
Size and reach: Size will also influence the equipment's overall costs. The models with the furthest reach tend to be larger to maintain the center of balance.
Power: Today's heavy equipment is typically powered with diesel, electric or propane. The power source will affect your expenses, and propane models will typically cost you more.
Drive system: You can find man lifts with wheels or tracks. You can also opt for a towable model that mounts to a truck bed. Models with tracks tend to come with the highest price tag and maintenance requirements.
Age and hours of operation: Another key factor that will impact the price of a used boom lift is its age and how many hours of operation the machine already has.
If you are also interested in accessories or attachments for your used boom lift, you can expect to spend more.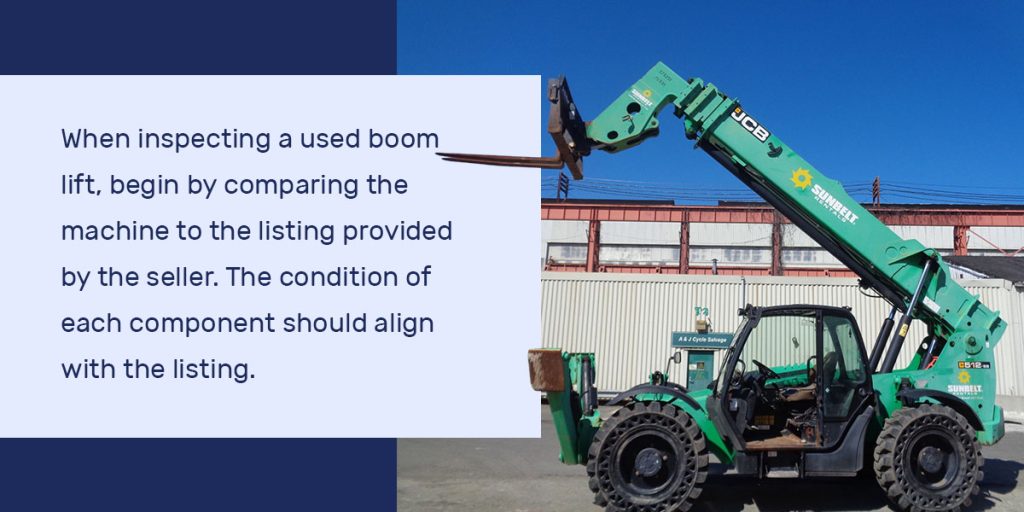 How to Inspect a Used Boom Lift
Anytime you are interested in buying used heavy equipment, it is important to perform a thorough inspection to ensure it is in good working condition and worth the investment. Ask to see the machine in action. You'll want to carefully test the aerial lift performance and determine if any damage may cost you in the near future.
When inspecting a used boom lift, begin by comparing the machine to the listing provided by the seller. The condition of each component should align with the listing. If there is additional wear not disclosed by the dealer or private seller, you should be wary of buying from them.
Double-check the machine's specs and consider how it will suit your typical work sites. Exercise caution and remember to always purchase used equipment from a trusted used equipment seller like Bid Equip LLC.
How to Inspect Used Boom Lift Components and Attachments
In addition to inspecting the general condition of a used boom lift before buying, you'll also want to take a closer look at the machine's components and attachments.
Begin by assessing the boom lift's condition, looking for worn or broken parts. Consider if there is any rust or corrosion present. Pay close attention to smells, sounds and any potential fluid leaks.
Ask to see the arm in action. There shouldn't be rattling or jerkiness when extended. The machine should work smoothly with or without weight added. Test the following controls:
Key switch
Lights
Brakes
Alarms
If you plan to buy used boom lift attachments, ask to test them, too. Don't forget to inspect the equipment's tires or tracks. Look for signs of wear and tear, such as patches or punctures, that may be an issue later.
Questions to Ask Before Buying a Used Man Lift
Anytime you invest in used heavy equipment, you should ask a few key questions before handing over your hard-earned money.
Begin by assessing your project needs. Ask yourself the following questions:
What are the terrain and ground conditions that you typically work with?
How heavy are the materials you'll need to move with the boom lift?
How much space do you typically have to maneuver around work sites?
Answering these questions will help you determine if a used machine is well-suited for the projects you work on. In addition to these, you'll also want to ask the seller about a few key features of the boom lift before buying. Questions to ask include:
What is the maximum reach height of this machine?
What is the weight capacity?
Do you have service history records?
Are there any attachments needed?
What are the warranty parameters?
Do you offer financing options?
Do you offer ongoing maintenance services?
Used Boom Lift Maintenance Expectations
When you purchase used aerial lift equipment, you'll want to consider the ongoing maintenance requirements for keeping the machine in its best condition.
You'll want operators to perform visual inspections each time they use the machine. If any potential problems arise, you'll want to address them promptly.
Preventive maintenance is key to getting the most out of your equipment. Plan to have a professional inspect your boom lift regularly. Following the original equipment manufacturer's (OEM) guidelines is best. You'll typically need a qualified mechanic to take a look at your machine every three months.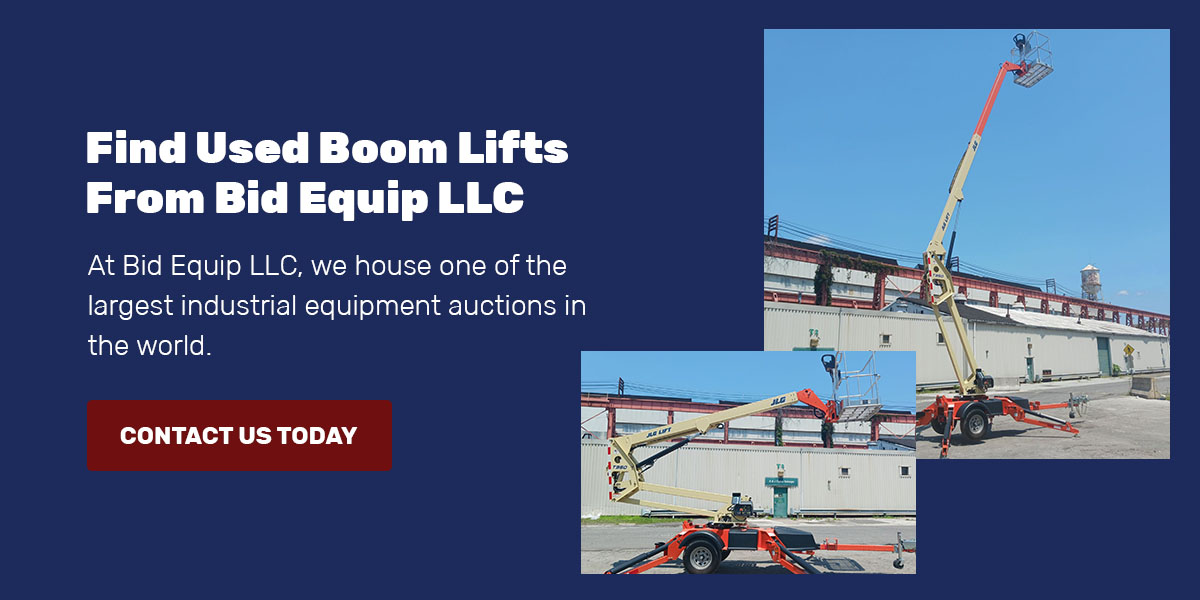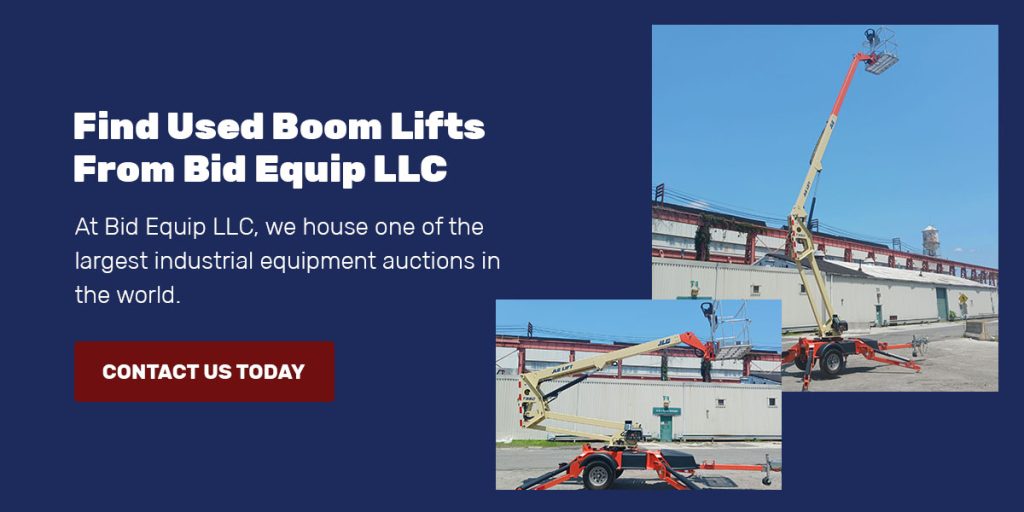 Find Used Boom Lifts From Bid Equip LLC
At Bid Equip LLC, we house one of the largest industrial equipment auctions in the world. You can find a wide variety of high-quality aerial lift equipment at great prices. All of our machinery has undergone extensive inspections to ensure it is in excellent condition before being auctioned off.
You can purchase used construction equipment at our in-person warehouse auctions in Philadelphia, Pennsylvania, or online with our digital bidding options.
Ready to get started? Contact Bid Equip LLC to learn about our selection of used aerial lift equipment, or explore our upcoming auctions today!
Share: