Guide to the Different Types of Skid Steers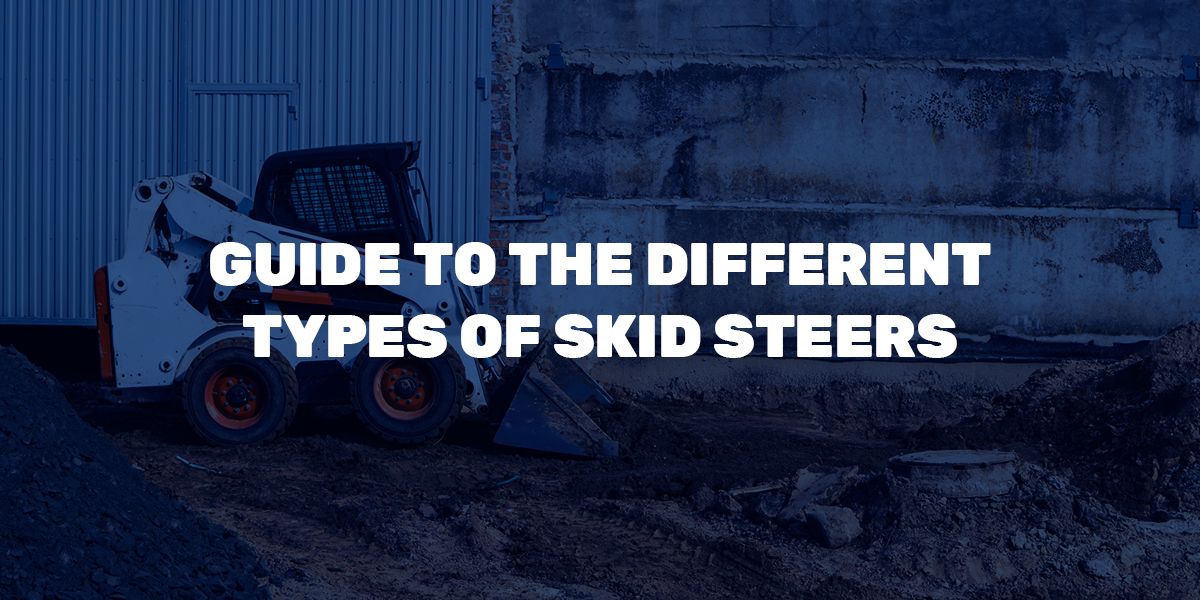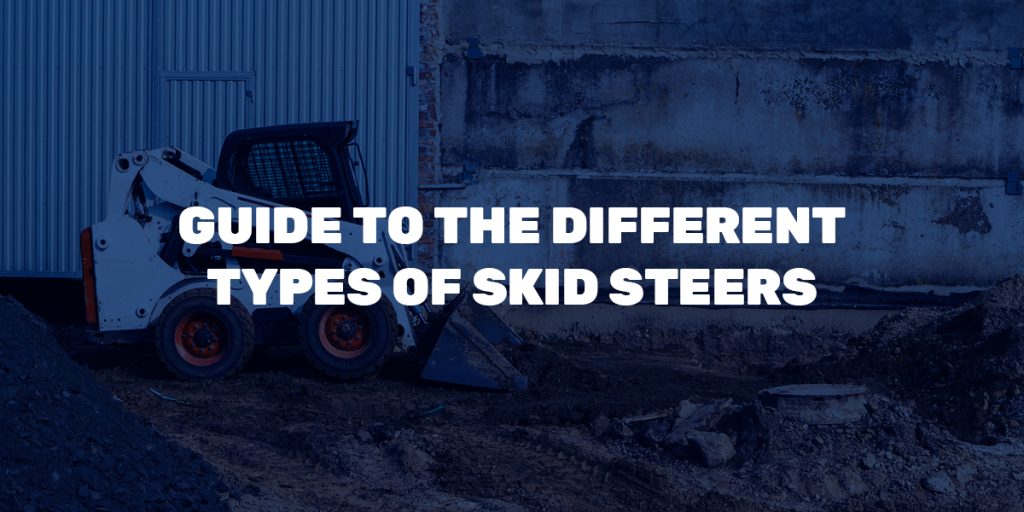 Skid steers are versatile workhorses that can help grow your company quickly and profitably by boosting production. However, it's wise to review the basics of the machine before you invest in one so you can make the right decision based on your business and project needs.
Size requirements, attachment options, lift style and operating conditions are vital factors to consider before buying.
Skid Steer Sizes and Weights
Skid steers differ in size and weight. Compact models can tip the scales at less than 6,000 pounds, while their big brothers can weigh over 9,000. These weights impact the equipment's maneuverability and its rated operating capacity (ROC).
Operating Capacity and Frame Size
All skid steers come with a ROC representing how much the machines can lift safely. Overloading a skid steer can create potential hazards for property and people.
The ROC differs from the steer's operating weight, which tells how heavy the equipment is when fully fueled and occupied.
ROC is important for choosing the correct machine because a higher ROC means more powerful hydraulic and engine systems. As a result, higher-rated models are capable of performing heavier jobs.
Industry standards separate basic frame sizes based on horsepower (hp) and ROC. The current guidelines are:
Small frame: These models have an ROC ranging between 1,500 and 1,750 pounds and approximately 50 hp.
Medium frame: This equipment typically offers an ROC between 1,750 and 2,200 pounds with 50 to 70 hp.
Large frame: The biggest skid steers have a minimum of a 2,200-pound ROC and 70 hp.
Job Site Considerations for Frame Size
Another crucial factor in choosing the right skid steer size is the layout of your typical job site.
You need sufficient clearance to maneuver safely and effectively. For example, a small frame skid loader is ideal if you primarily handle landscaping jobs. These models are narrow enough to fit through standard-sized gates and light enough to protect the ground beneath them.
Attachment Options
One thing that makes these machines so versatile is the variety of skid steer attachment types on the market. Different options transform your single investment into one that can handle a range of job tasks in an affordable way.
Since not all machines have the right type of power systems to support every option, the skid steer bucket types you can choose from will vary based on your model. You'll need to consider your equipment's horsepower and hydraulics system to identify the possibilities.
Small-Frame Options
Smaller-frame skid steers usually include simpler hydraulics. They can generally support attachments like:
Dozer blades
Augers
Backhoes
Grapples
Small trenchers
Medium-Frame Options
Medium-frame models are popular because of the many applications they can handle. These units support the attachments above, plus:
Mini excavators
Standard saws and trenchers
Pallet forks
Bale spears
Brooms
Large-Frame Options
The largest skid steers are highly capable machines. They easily power any attachment a small- or medium-frame model does, as well as:
Cold planers
Snowplows and blowers
Tree and stump grinders
Wheel saws, rock saws and forestry blades
Mulchers and drills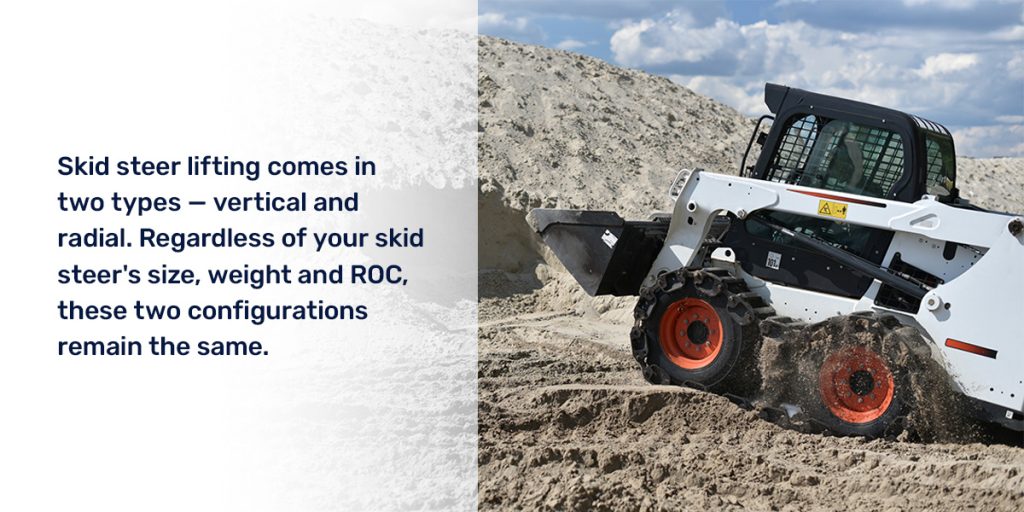 Lift Type
Skid steer lifting comes in two types — vertical and radial. Regardless of your skid steer's size, weight and ROC, these two configurations remain the same. There are fewer internal parts to the radial lift design, while vertical-lift-style machines tend to be more powerful.
To determine which one is right for you, think about the applications you want your skid steer to handle.
Routine Applications and Lift Type
Everyday tasks impacted by lift type include:
Material handling: Steers with vertical lifts are better equipped to move heavy loads and repeatedly lift and shift materials.
Digging and backfilling: Ground-level applications like these are ideal for radial lift configurations, as this design type offers higher operator visibility and better mobility.
Site development: Low-impact projects like basic landscaping and groundwork benefit from maneuverable machines with radial lifts.
Loading: A vertical-lift model is the right choice if your jobs often call for lifting and loading into dump trucks or similar tasks.
Operating Considerations
Two additional factors to look at when determining the right skid steer for you include your typical operating environment and your operating preferences.
Characteristics such as terrain vary from site to site. Regardless of their other specs, skid steers perform at their best in conditions without soft, muddy or rocky surfaces.
Likewise, you'll want to consider preferences for controls and cab comfort when deciding which type of skid steer to buy. Conventional models often have a combination of hand and foot controls, while newer ones can include more intuitive joystick operation. If you often work in extreme temperatures, you might consider an enclosed cab with heating and cooling systems to promote operator comfort.
Skid Steers Versus Compact Track Loaders
Compact track loaders (CTLs) are similar to skid steers, but instead of wheels, the compact track loader moves on continuous rubber tracks. Depending on your budget and job needs, one of these machines may be more suitable than the other. Some considerations to make include:
Operating terrain: Skid steers work best on smooth, even and hard surfaces, while compact track loaders handle uneven, soft and rough terrain better. Plus, CTLs are more gentle on landscaped grounds.
Purchase and upkeep costs: Track loaders are more expensive to buy and maintain. Their rubber tracks experience more wear and tear than wheels, especially if you use them on rough surfaces like rock or concrete.
Stability: Thanks to their increased ground contact, track loaders provide a more secure riding experience.
Find Your Ideal Skid Steer at Bid Equip LLC
We hold some of the world's largest construction and heavy equipment auctions from our location in the Philadelphia Airport Business Complex. Browse our inventory with easy access from the airport so you can see the machines in person. Can't get here for a look? Rest assured, we conduct thorough video inspections of everything we sell! To learn more about our upcoming events, visit our skid steer auction page or contact a Bid Equip specialist online.
Share: