11 Tips for Bidding at an Online Auction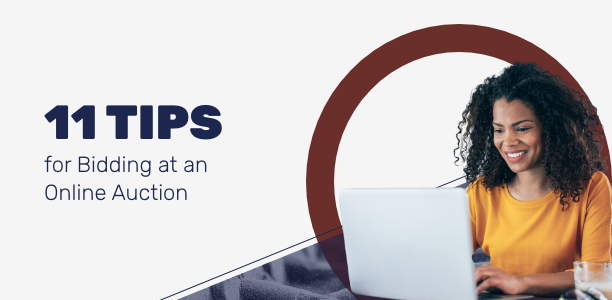 Participating in an auction can be an effective way to find used equipment for a great price. However, the nearest auction site may be miles from your current location, and your schedule could make it challenging to attend these events in person.
Thankfully, bidding at online auctions offers you a way to participate without a time commitment, allowing you to bid on used heavy equipment online. If you are interested in how to win an online auction, we can help teach you the most effective tips for online bidding methods below.
What Is an Online Auction?
Like an in-person auction room, an online auction allows interested buyers to bid against each other for a particular item. At the end of the auction window, the person with the highest bid receives the item. Online auctions often allow buyers to find expensive items at a reduced rate.
Live online auctions have many additional benefits when compared to in-person bidding locations. Rather than traveling long distances to an auction house, participants can bid on items from the comfort of their own homes. Online bidding systems can also provide unique features normally impossible at an auction house, such as automatic bidding and bidding on multiple items simultaneously.
One of the most significant advantages of online auctions is that you can avoid the bidding crowd. An auction house is an exciting environment, and auctioneers train to instill a sense of urgency in buyers, encouraging them to bid faster and more frequently. It may be easier to avoid the temptation of making unwise purchasing decisions during the heat of the moment by bidding remotely.
Steps to Bidding Online
The process of bidding online can vary depending on which auction site you use, though most websites follow a similar bidding flow. Here are the steps to bidding in an online auction:
Create an online account: Before you can start bidding, you must create an account on the auction website. Most sites also allow you to store a payment method on the account to simplify your auction experience.
Locate the auction page: Visit an auctioneer's website to find their page and a list of their upcoming auctions. The listings will include the link to the bidding page, the auction dates and other important information. Simply follow the link to the auction page and log in with your account.
Register for the auction: You will find the option to register for the event on the auction page. Registration includes a form for you to fill out so the auctioneer can verify your identity. The information needed depends on the auctioneer. Many auctioneers will require you to submit a credit card number for verification.
Obtain approval from the auctioneer: Your auctioneer will review your registration information to determine whether you are a legitimate bidder. This process usually takes between one to two days. If more time has passed or the auction opens in less than two days, contacting the auctioneer directly can help expedite the process.
Place bids on the items you want: You can view the current bid for available items once the bidding opens. When you place a bid higher than the current winning bid, the site will display a notification that you are in the lead. Keep an eye on your bid throughout the auction window to ensure that you remain on top. If you are the highest bidder by the end of the bidding period, the item is yours to purchase.
Pay for your winnings: Your auctioneer will typically request payment by email. Sometimes they will also include a link to a simple online payment form. Otherwise, they may send an invoice and request a bank transfer for payment.
Arrange retrieval with the auctioneer: You should plan to make all arrangements for the transportation of goods with the auctioneer. Depending on the item, the auctioneer may offer multiple methods for retrieving your item. You may be required to pick the item up in person, or they might offer to deliver the item to you for a fee.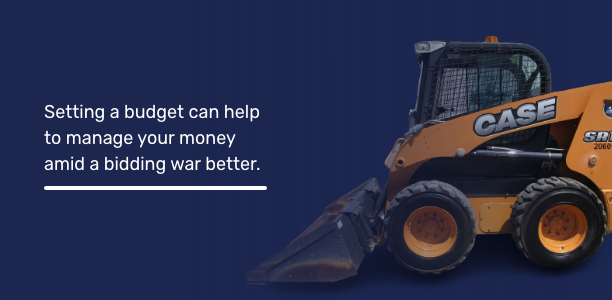 11 Tips for Bidding With Success in Online Auctions
Online auctions are competitive marketplaces, and the best way to stack the odds in your favor is by implementing as many strategic approaches to bidding as possible. Learn how to win an online auction with these helpful online auction tips:
1. Understand the Auction Rules
Before you start bidding, you should look over the auction's specific rules, as each auction website and auctioneer may have slightly different directions. Thoroughly review the terms and conditions before the auction starts to avoid penalties. A violation of bidding rules can forfeit your chance at receiving an item.
2. Add Items to a Watchlist
Many auction sites and auctioneers provide a mailing list for their auctions, allowing you to receive direct notifications when they put an item relevant to you up for bidding. Depending on the complexity of the website, you could subscribe to general categories of items or specific events like online forklift auctions.
3. Know the Bid Clock
In timed online auctions, the bid clock is the period when you can place bids on items. The duration of the bid clock, start times and end times can vary between items. By keeping track of the individual time frames for each item you're interested in, you can monitor your bids easily to stay on top of the competition.
Additionally, the displayed countdown clock may be off by a few seconds due to network connection issues or lag. As a result, if you plan to place a bid at the very last second of an auction, there's a slight chance that you might miss the window if you stall for too long. A good rule of thumb is to assume your connection is about 10 seconds slower than the actual time.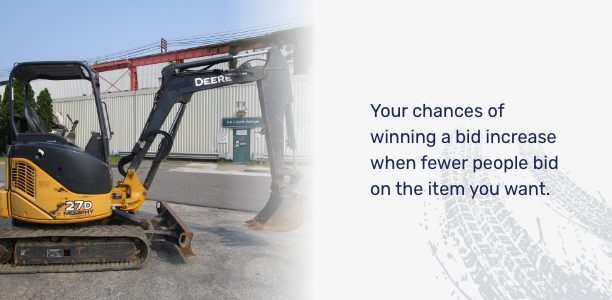 4. Set a Budget
During the excitement of an auction, it can be easy to overspend on an item accidentally. Setting a budget can help to manage your money amid a bidding war better. If at any point you reach your limit, you'll know that you should stop bidding.
5. Use Automated Bidding
Easily one of the most useful auction bidding tips available, automated bidding can make any auction experience easy. Most online auction websites offer the ability to set an automatic bid limit. With the automated bidding system, the website will automatically place a higher bid if someone passes your offer, up to a maximum limit you specify. Automated bidding systems are perfect for those who have little time in the day to watch over an auction or feel pressured to exceed their budgets in bidding wars.
6. Research the Item
Before bidding on an item, you should first make sure that it fits your needs. Start with preliminary research on the product itself, including its manufacturing date, technical information and overall user reviews. If it's a used item, you can also ask the auctioneer for additional information like physical imperfections or defects.
7. Test, Inspect and Compare Items On-Site
If you're considering bidding on a more expensive piece of equipment and the site is close enough to you that you're okay with traveling, it's a good idea to test it out first. Most auctioneers will be more than happy to give you a closer look at the item if you ask. Once you've seen the item in person, you'll have a better understanding of how much it's worth and what you should offer for it.
8. Compare Similar Items
You may have joined the auction with your eye on a specific piece of equipment for its particular brand or model. However, you may find a better deal by considering similar items from different manufacturers. These items will likely have less competition than the leading brands, increasing your chances of winning the bid.
9. Only Bid if You Need the Item
While this point seems obvious, it can be tempting to bid on items you can live without. The more items you bid on at once, the more likely you will accidentally overspend on an item. You also face the danger of neglecting an item you need, which might result in losing the item if someone outbids you. The best way to use an online auction is by only targeting the items you need.
10. Pay Quickly
Once you win the auction, it's essential to pay for the item as quickly as possible. Stalling on your payment can result in hefty storage and late payment fees. If the auction website offers automatic payments, taking advantage of the service is a great way to ensure that you pay on time.
11. Finance the Item
For more expensive pieces of equipment, the auction website may provide financing options so you can gradually pay over time, rather than all at once. While you should avoid bidding for items you cannot afford, financing is an excellent option if you know you can easily make the monthly payments and they fit into your overall budget.
Winning Online Auction Techniques
You might come across an auction for a piece of equipment or a rare item that you've been trying to find for a long time. If you are willing to put in some extra effort, a live auction bidding strategy can make it easier to secure the product. Consider one of these online auction bidding strategies for increasing your chances of purchasing the item.
Start With a Higher Bid
While one of the goals of an auction is to find an item for a lower price than usual, starting the bidding low can encourage others to bid as well. A low bid can quickly escalate into a bidding war, where multiple parties try to top the competing bidders marginally. By starting with a reasonable offer within your budget, you can eliminate the competition early so that emotions are less of a factor for bidding decisions.
Bid on Less Active Items
Your chances of winning a bid increase when fewer people bid on the item you want. If the auction offers a few of the same items, look at the activity to find the less active options. You might be able to win the item for a smaller bid.
Watch the Auction All Day
If you have the means to monitor the auction throughout the entire period, you can use marathon bidding to let other bidders know that you mean business. With this strategy, every time someone makes a bid, your goal is to bid immediately after them. Quickly countering their offer might discourage them from bidding more because they may be unable to keep up.
Bid at the Last Minute
This online auction strategy involves closely watching the auction timer and then placing a final bid at the very end of the period. For less-active auctions, this method can be a great way to snag an item at a low price. However, one potential issue is that this strategy is one of the most popular tactics for web auctions, which means others might have the same idea. The auction may also have policies regarding last-minute bids, such as an automatic time extension.
Mistakes to Avoid in an Online Auction
Although an online auction is less stressful than an in-person auction, the stakes are the same. At the end of the day, only one bidder receives the item. To maximize your chances of winning the auction, avoid these common mistakes while bidding:
Starting with your maximum bid: It's easy to think that placing your maximum bid will discourage the competition from bidding against you. While that may be true for many bidders, the greater risk is that you may end up overspending for the item. If the website allows it, a better strategy would be to set up your maximum bid as an automatic bidding limit and start the bidding low.
Placing a bid you cannot afford: Just like an in-person auction, winning an online auction is a contractual agreement for your purchase of the item. Depending on the auction site and the auctioneer, you may face severe penalties for ignoring the agreement. You could end up with heavy fines or a website ban.
Getting caught in a bidding war: Although the online experience lessens the temptation of a bidding war, you may still be dragged into one, especially if you watch the auction throughout the day. Avoid bidding wars by intentionally creating time gaps between your bids.
Attending an illegitimate auction: Unfortunately, the anonymity of the internet can encourage scammers to pose as auctioneers and create fake online auctions. Participating in a phony auction can result in paying for a nonexistent item and even lead to a breach of your data. The best way to avoid these illegitimate events is to use reputable online auction websites and verify an auctioneer's quality through reviews.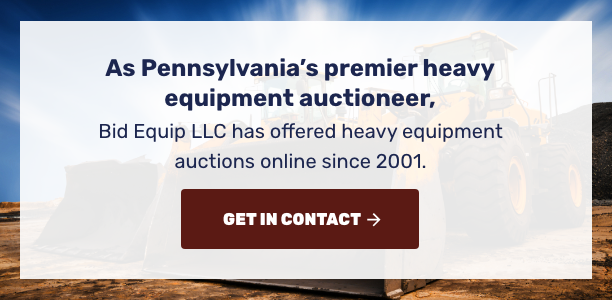 Choose Bid Equip for Online Construction Equipment Auctions
As Pennsylvania's premier heavy equipment auctioneer, Bid Equip LLC has offered heavy equipment auctions online since 2001. From online skid steer auctions to metalworking machine auctions, we have equipment for sale that can fit your needs.
In addition to online auctions, we also offer warehousing, container loading and shipping services. Whether you're buying new equipment or need to haul your heavy machinery, our equipment specialists can do the heavy lifting for you.
If you're interested in participating in our next auction, check out our upcoming events for more information. Feel free to contact us if you have any questions.
Share: