Tips for Selling Heavy Equipment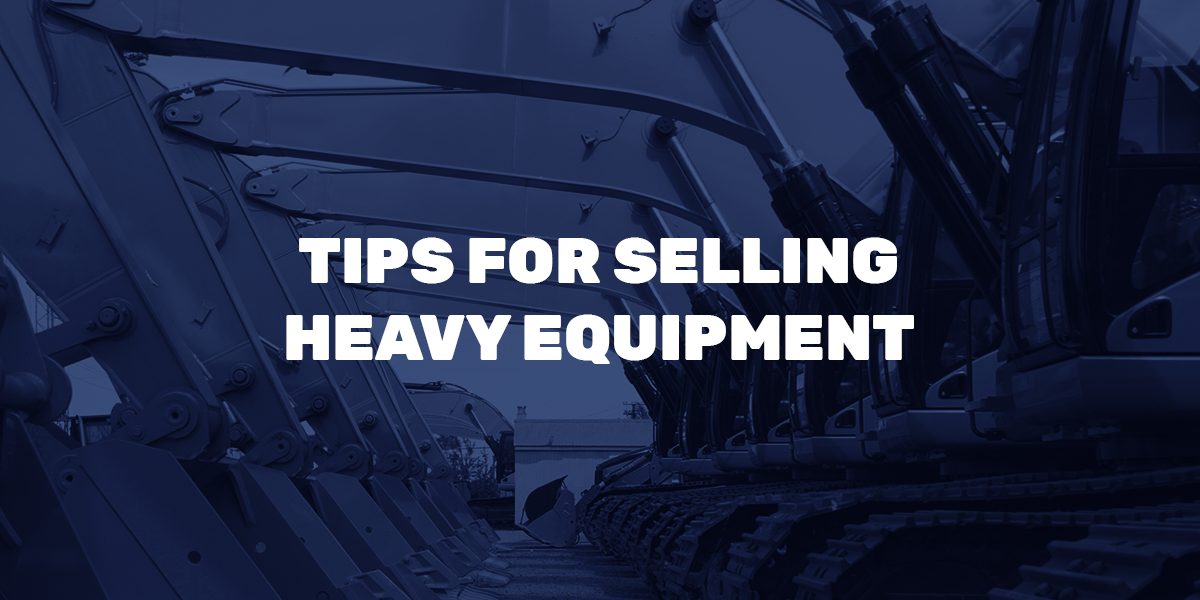 When you have a machine to sell, you want to unload it quickly and for a decent profit. With the right approach, you can find heavy equipment buyers promptly and walk away with a good deal.
Quick Tips for Selling Industrial Equipment
Selling heavy equipment involves several factors. While you have to think about your buyers, you also have to consider the equipment itself and what you're hoping to get from the sale. With the right tips, you can approach machinery sales like a professional. When you're ready to sell, you should:
Know equipment worth: Your machine will have a value based on its make, model, age and condition. Heavy machines depreciate in value slower than a consumer vehicle like a car, so you may be surprised about how much your equipment is worth. Do your research to set a price range so you can negotiate a good deal that benefits you and your buyer. You can also work with an independent appraiser for this information.
Provide service information: Heavy equipment purchases are big commitments, and buyers will want to know as much as possible about your machine before they make any purchases. Providing service information, such as when you recently overhauled the equipment and the maintenance it requires, will give your buyers the information they need to purchase with confidence.
Be transparent: In addition to service information, transparency elsewhere can help convince a buyer to commit. Take pictures of the cab, undercarriage, tracks and other essential parts of your machine. You're more likely to reel in buyers if they know what to expect.
Optimize condition: Before taking photos of your equipment, optimizing your model's condition can make your machine seem more appealing to buyers. Fixing up paint, getting your machine serviced and repairing upholstery are small investments that can lead to higher offers.
Screen buyers: While you need buyers to trust your offer, you need to trust them in return. Before committing to a transaction, check out the buyer to see if they're legitimate. You might choose to work with a professional who can handle this process for you.

Options for Selling Heavy Equipment
There's more than one way to sell your heavy equipment. Whether you work independently or with a third party, it's helpful to understand your options. When you know what's available, you can choose the best route for your circumstances and equipment.
Private sale
This method is often the approach people take when trying to unload heavy equipment. If you want to sell industrial equipment privately, you have to manage many processes on your own. You'll have to consider where to find buyers, how much your machinery is worth and work through the maintenance process to ensure your machine is in good shape.
As a private seller, you might put a "for sale" sign on your machine or sell construction equipment online with an ad in the newspaper or on social media. While whatever approach you take is up to you, know that it will take a time investment.
A private sale can be the riskiest of the heavy equipment selling methods for several reasons.
Pricing Equipment
Buying and selling heavy equipment can often be a guessing game with regard to pricing. You'll need to strike a balance between getting a fair return for the machine and making the cost attractive to prospective buyers.
Nobody wants to overpay for used goods that may have a limited life span. If you attempt to determine the valuation yourself, you could miss the mark and price the equipment too high, causing buyers to look elsewhere.
Another option is to seek a professional valuation from a qualified third party, although this creates an additional expense for your business. If you attempt to recoup this cost by adding to the sale price, you could end up deterring qualified buyers.
Keep in mind that savvy buyers will want to see a detailed inspection report before agreeing to purchase heavy equipment. This document provides more insight into the machine's condition, service hours and maintenance history, and is essential for justifying your sale price.
Potential Liability Issues
Liability is a factor that many sellers don't consider when putting their equipment on the market. Consider this scenario — you have a wheel loader you're looking to sell and decide to keep it on your property. A potential buyer asks to take the machine for a test drive and causes an accident that results in significant injuries and property damage.
While your liability insurance may cover some or all of the costs, you never know how your carrier will handle the claim. It could attempt to reduce its losses and its payout, leaving you on the hook for the rest. Moreover, filing a claim and wrangling with the adjusters is a time-consuming, hassle-filled process that takes you away from more important and productive activities.
In a worst-case scenario, an injured party could decide to sue you. If you don't have adequate liability insurance coverage, you may have to pay the remainder out of your own pocket. This outcome could have devastating financial consequences for your business.
Time Concerns
Selling heavy equipment privately can be a time-consuming process. If you're like many business owners, time equates with money. The longer an unused asset sits on your property, the bigger the expense it creates for your company.
In situations where you've financed the purchase of a machine, you'll still need to make the payments as you seek a qualified buyer. And if the process drags on, you will need to wait longer to get essential funds to apply to your operation. You could also miss out on lucrative business or investment opportunities due to a cash shortage.
If you rely on a private sale to get rid of your equipment, you're at the mercy of the marketplace. In a challenging business climate where few companies are looking to buy heavy machinery, you could end up sitting on your equipment longer than you anticipated, which could hurt your company's bottom line.
Consignment
Getting a dealer to sell for you is called consignment and it can offer benefits. Dealers have industry knowledge, making it easier for them to identify machine prices and where to sell construction equipment. They'll also know how to showcase your equipment and bring in high offers.
If you're thinking about consignment, consider the overhead costs or commission. Dealers are looking to make a profit just like you, so they may charge you for the work they put into selling. They may also request a high commission for the sale.
How Does the Consignment Process Work?
The consignment process involves selecting a dealer or another business entity to sell the equipment for you. The dealer takes a percentage of the sale price (you agree to the amount before finalizing the arrangement) as a fee for managing the task, providing an incentive to seek top dollar for your machine. You retain ownership of the item until the completion of the sales transaction.
What Are the Benefits of Selling Equipment on Consignment?
A consignment sale offers many advantages for businesses.
1. Reduces Time and Effort
If you're like many business owners, you have little time to devote to selling equipment. This task requires you to market the machine, locate and negotiate with buyers, and handle a long list of details. All of this effort takes you away from what matters the most — completing your projects and managing your operations. A consignment dealer can remove the burden from your shoulders.
2. Access to a Larger Market
Many companies may limit their private selling efforts to the surrounding areas. A consignment dealer typically has a larger territorial footprint that can be regional or national in scope. This process provides more opportunities to connect with qualified buyers, allowing you to sell the machine faster and for a higher price. In many cases, the dealer has an established network of contacts, helping to expedite the sale.
3. Allows You to Maintain Control
Businesses are often more comfortable selling equipment on consignment because it keeps them in control throughout the process. Although you must agree to pay the dealer a percentage of the sale, you still have the final say on the price. If you don't feel you're getting enough of a return, you can instruct the dealer to keep trying. Remember — you still own the equipment until a sale goes through.
4. Gives You More Options
No two consignment dealers are alike. As you search for the right seller, you'll likely discover that many offer additional services to sweeten the deal. For example, some companies will inspect the machine and make upgrades to improve its condition and buyer appeal. They may also deliver it to the buyer, saving you the extra cost and effort. Some dealers will even purchase the machine outright if it doesn't sell within a specified time frame.
When Should You Consider Using Equipment Consignment Sales?
Selling on consignment can often deliver the best results in these situations:
You're not sure how or where to sell heavy equipment.
You don't have the time or resources to allocate to the selling process.
It's important to sell the machine as quickly as possible.
You're hoping to avoid the hassles of selling the equipment yourself.
The equipment requires repairs, maintenance or upgrades before putting it on the market.
Your attempts to sell the equipment privately have not been successful.
You have several machines to sell at once.
The extra services offered by dealers will add value to the transaction.
You can negotiate an affordable fee that makes the process cost-effective for your business.
Machinery Auction
Working with a professional auctioneer can help you sell your machine at a competitive price. A machinery auction will draw in eager buyers with ease, and they can help you sell quickly. With this method, it's essential to have a reliable auction company with strong marketing methods and a considerable customer base.
How Does a Heavy Equipment Auction Work?
Are you familiar with auctions where people buy and sell vehicles, memorabilia, household goods or other items? A heavy equipment auction functions much the same way. You'll transport your machines to a public sale on the designated date and time. An auction house opens the bidding for the item and awards it to the individual offering the highest price.
You can also find online auctions where the entire process occurs via the internet. Many auction houses offer both heavy equipment selling methods — virtual and in-person.
What Are the Benefits of Selling Your Heavy Equipment at Auction?
The auction process offers several benefits for heavy equipment sellers:
1. Higher Prices
As a seller, your objective is to get the best price for your equipment. Although these machines decline in value as they age, you can still receive excellent value at an auction, especially if you have an in-demand item. As bidders compete for the equipment, it can drive the price upward. You may be pleasantly surprised at how much of a return you'll get on your original investment.
2. Wide Selection
People participate in auctions because they receive access to an extensive array of equipment in one location. They know they can save time and have a better chance of finding what they need. As a seller, you can capitalize on these advantages by getting your machines in front of many motivated, well-qualified buyers who are ready to bid on your items.
3. Transparency
When you sell heavy equipment at auction, the auction house will require you to supply documentation concerning the machine's maintenance history, service hours and condition. Because buyers have access to this essential information beforehand, they can bid on your items more confidently than when working with private sellers or heavy equipment dealers.
4. On-Demand Buying
Buying items at auction eliminates many of the hassles of sourcing heavy equipment by providing a simple, straightforward process. Upon successfully bidding for a machine, buyers can typically complete the transaction and take the item with them the same day. This feature appeals to companies with an immediate need for your equipment, as they can begin using it without a lengthy delay.
Tips for Selling Heavy Equipment at Auction
These tips can improve your auction sales results:
Research the market: The market conditions for heavy equipment can fluctuate. Taking the time to understand the current trends can help you determine the best time to sell.
Set the right price: In an auction, the reserve price is the minimum bid you're willing to accept for an item. Make sure this price is realistic and won't deter buyers.
Prepare the equipment for sale: Make sure your machine makes a favorable impression by cleaning and upgrading it to improve its condition.
Furnish the details: Provide as much information as possible about the equipment, such as photos, service records, inspection reports, technical specifications and warranties.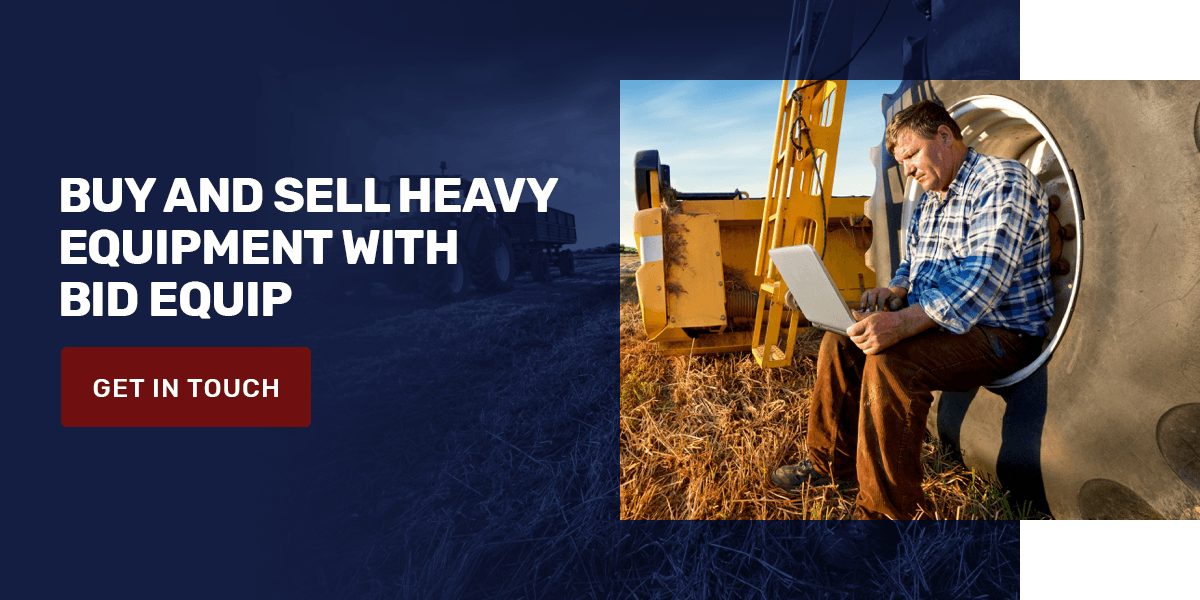 Buy and Sell Heavy Equipment With Bid Equip
Are you looking for the best place to buy or sell used construction equipment in Pennsylvania, Maryland, New Jersey or Delaware?
At Bid Equip, we give you the support you need to auction off your heavy machinery. We perform video inspections on equipment and provide free loading on most machines. With a 100,00 square-foot heated warehouse and 60-ton crane bridge, we have an ideal location for holding auctions. We're located by the Philadelphia airport for quick access to machines.
Get in touch with us today to participate in a machinery auction with Bid Equip.
Share: