Pros and Cons of Buying Used Construction Equipment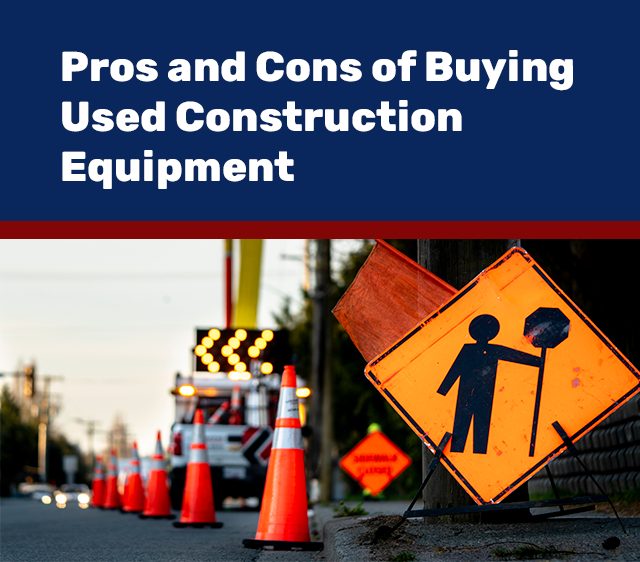 When you're in the market for construction equipment, you have more options than buying new from a dealer. Choosing to buy used machines gives you a host of benefits, as they often cost significantly less than new ones and are often in excellent operating condition. So long as you maintain your used equipment, you should be able to make it last for years.
Continue reading to learn more about purchasing used heavy equipment for construction work.
Pros of Buying Used Construction Equipment
In short, used heavy equipment can provide the same benefits as a new machine at a much lower cost than buying new or renting consistently. That said, you'll still want to consider a few points before you buy a used piece of equipment. Mainly, you'll want to consider how long you plan on using the machinery.
Will you be using it continually over the next few years or only for a short-term project? Find out how much it'd cost to lease or rent the machine for the time you need. Then, compare that number with the combined costs of buying the equipment, storing it and maintaining it over time. Often, you'll find that it makes more financial sense to purchase the machine, and buying used will save you even more money.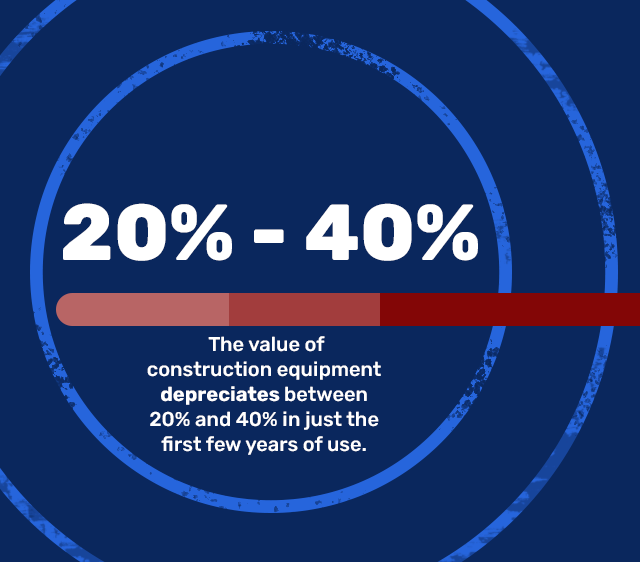 More Economical Pricing
Most used equipment sellers offer machines at far below their initial retail price. Like cars and other vehicles, the value of heavy equipment depreciates quickly after first use. The frequent use of heavy machinery in construction projects contributes to routine wear and tear that decreases the value. In addition, new machines come out on the market each year with improved features and functions, inherently devaluing the previous models.
In fact, the value of construction equipment depreciates between 20% and 40% in just the first few years of use. Many machines are still in great condition after a few years of use and will cost significantly less than new models. As a result, you can often find affordable deals on used equipment for your needs.
A Wide Selection
One of the biggest advantages of shopping for used equipment is the selection available to you. If you're thinking about buying a new machine to get the latest features of a particular model, be aware that you'll probably be able to find a used machine from the past few years with many of the same capabilities.
In particular, used machinery auctions offer all the equipment you'd see at a dealer, including forklifts, cranes, backhoes, boom lifts and excavators. There are also well-known, trusted brands available, such as Caterpillar, Bobcat, John Deere and Volvo. Usually, auctions offer a wider selection of brands and equipment than you can find at a dealer. These sales also give you the opportunity to compare several brands and features so you can make the most informed decision.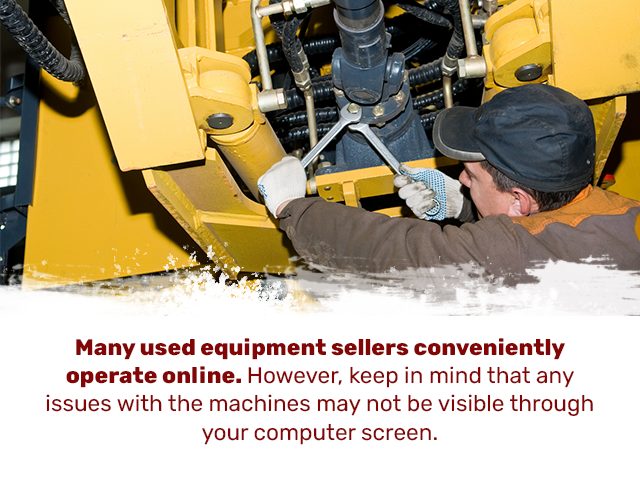 Cons of Buying Used Construction Equipment
While buying used heavy equipment is cost-effective and convenient, it can come with a few downsides.
Many used equipment sellers conveniently operate online. However, keep in mind that any issues with the machines may not be visible through your computer screen. Additionally, since the machines will have already sustained some use, you might have to pay more upfront for repairs or initial maintenance. Even a machine in great condition might require new tires and a few quick fixes.
Ultimately, the price you pay to get a used machine up to like-new standards might be greater than the seller's sticker price. But in the long run, it's often still cheaper to buy a used machine than a new one that needs less initial maintenance, especially when if you find a deal.
Higher Chance of Wear and Tear
While you can often purchase used equipment online, it's best to visit the seller and see the machine for yourself. Once you familiarize yourself with what you're looking to buy and are aware of any potential maintenance needed, you'll feel much more confident in your purchase. Inspecting a machine before you buy it also allows you to weigh your options and be aware of any maintenance the equipment would require before you make your final choice.
When looking at used equipment, expect to see a certain level of wear. Both tires and batteries often need to be replaced multiple times throughout the life of a machine. Sometimes, the previous owners neglected to keep up with fluid maintenance. Any issues you find with used equipment should be minor. If you're buying equipment from a trusted seller, they'll only offer you products in good working order.
How to Inspect Equipment
Even if a machine looks to be in good condition, you may still come across issues under the hood.
Here's a checklist of parts to pay attention to and potential issues to be aware of during your inspection:
Tires: Are they worn or cracked? Consider whether replacement tires will be necessary.
Metal pieces: Are there any bends, chips or cracks on the body or frame of the machine? Are there any signs of repair? Specifically, large welded sections may indicate previous damage.
Connections: Are the chains damaged or missing links? Do the hydraulic hoses and tilt cylinders show signs of leakage?
General operation: Be sure to test drive the machine to ensure there are no strange ignition sounds, the brakes and accelerator work well and all the operational and safety features are in good working condition.
Battery: Is it corroded or damaged? Are there signs of wear?
Exhaust: Does the machine emit unusual smoke?
Finally, one of the most important elements of a used machine is its maintenance history. If the seller has the machine's maintenance record available, read it thoroughly. This way, you'll get more information about any significant repairs or damages and how frequently the machine has undergone routine inspections and maintenance. If you're satisfied with the way the machine has been maintained, you'll be more confident in your purchase.
Contact Bid Equip Today
Here at Bid Equip, we provide you with the best buying experience and the highest-quality used machines. At our auctions, we only sell used construction equipment you can trust. For over 20 years, we've specialized in selling a variety of machines, so you can be sure to find the right equipment for your projects.
In addition to our monthly online auctions, we invite you to come to see our inventory and inspect the machines you're interested in so you can feel confident about making the most informed choices possible. To learn more about all of Bid Equip's services, contact us online or give us a call at 484-494-6846!
Share: