What to Look for When Buying a Used Trencher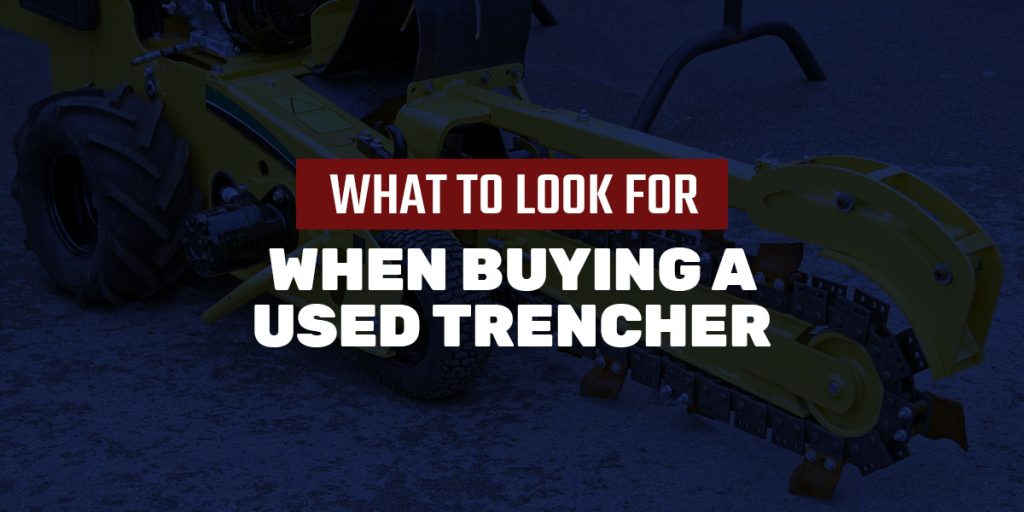 Do you want your trencher to enhance your operations and productivity? Have you ever thought of buying a second-hand trencher? High-quality, used trenchers can offer years of service and high performance.
You must first understand your productivity objectives when purchasing a suitable trencher. Inspecting your trencher quality and performance is another critical factor when buying second-hand. You can buy a used trencher that offers long-term value and performance by understanding various factors like price, project difficulty and trencher functionality.
How to Buy a Used Trencher
Buying a used trencher requires some research. You want to purchase equipment that matches your projects, productivity goals and budget. Considering various factors like terrain, safety requirements and project difficulty is essential. A thorough inspection can also help you select a suitable used trencher.
Before you buy a used trencher, ask your auctioneer or dealer for a physical inspection and functionality test. Most importantly, ask to do a test run. Weigh your objectives and budget against the trencher condition and decide if it is a worthwhile investment.
What to Consider When Buying a Used Trencher
If you're a contractor, keeping your productivity high is essential. You need quality and high-performance equipment to work efficiently and provide excellent results. Here are some factors to consider when buying a used trencher:
Productivity Goals
Newer model trenchers can have advanced contorts, digging chains and teeth. Whether you need a trencher for cutting through the pavement, digging through soil or cutting roots, you want a machine that can handle your requirements. Select a used model with features that meet your productivity goals and turnaround times.
Project Difficulty
You need a trencher that can move through your terrain. Laying sprinkler lines or cables can require less horsepower, making a walk-behind trencher ideal. A trencher with more horsepower, like a ride-on trencher with a directional drill, can be suitable for digging deeper into the ground or cutting through sidewalks and pavements. Understand the purpose of your trencher, and select one that is powerful and versatile enough for the job.
Dealer Support
Over time, various machine components like drills can deteriorate. After buying your used trencher, you might require machine repairs, replacement parts or expert troubleshooting. Find a reputable dealer that offers post-sale support and can help if you have any problems with your machine.
Terrain and Space
Consider the terrain and space of your projects. Are there any obstructions in the trench area? How narrow is your construction area? What's the path to the job site like? Buying a trencher suitable for your construction sites and projects can help maximize efficiency.
Workload
You need a trencher that can handle your workload. If you use your trencher often, you want a used model that can withstand continuous or rigorous work. Inspecting the trencher's physical condition and the hours used can help you decide if it will be a long-term and worthwhile investment.
Safety
A trench box is an essential consideration when buying a used trencher. You must also ensure that your construction equipment complies with updated safety requirements and regulations. A trench box can protect workers from the impact of moist walls washing away underground. Digging near buildings or structures can cause the ground and weight bearing to collapse, endangering your staff. Trench boxes have thick walls and elevate engineers to protect them if a nearby building or the ground caves in.
Cost
Trencher prices can vary depending on the interior and exterior condition, engine hours and features. You want to get the most out of your trencher and ensure it meets your needs. A used trencher in excellent condition can be a cost-effective and worthwhile investment. In comparison, a trencher with extensive wear can cost you more in repairs and impact your productivity.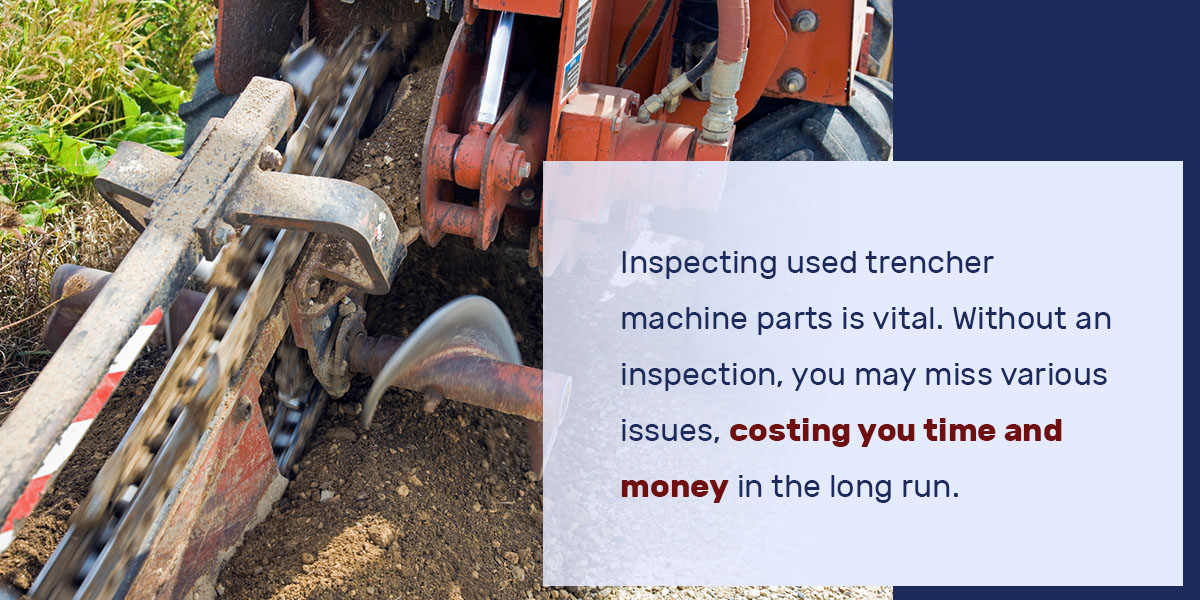 Questions to Ask During a Trencher Inspection
Inspecting used trencher machine parts is vital. Without an inspection, you may miss various issues, costing you time and money in the long run. Doing a physical inspection and testing the trencher's functionality can help you buy a quality machine.
Physical Inspection
Here are some questions to ask during the physical inspection:
Does the end idler move easily? Move the end idler from side to side to identify if it is worn. A loose-end idler can indicate that the bearings need replacement.
Is the boom assembly in good condition? Check the wear strips on the boom assembly for deterioration. Worn wear strips can be problematic and require replacement. Assess the boom assembly sides and ensure that it is not bent.
Is the head shaft pivot worn? Check the bushing in the shaft pivot for wear. The damaged bushing can require replacement to prevent any problems.
Are the auger sprocket teeth working? Assess the shape and condition of the auger teeth. If the teeth are blunt or worn significantly, they must be replaced. Check to see if the auger is working and running smoothly. If the augers are rolled over or moving out of shape, they can be bent and impact the bearings. Test the augers by moving them side to side when the machine is off. Too much movement can indicate extensive bearing wear.
Are the chain and teeth working? Check the chain by moving it from side to side. It can require replacement if it sags when adjusting it. Check the rollers and sidebars on the chain for wear. Rollers need replacement if they have an hourglass shape instead of a round one. You also want to check the teeth for any wear. A worn digging chain and teeth can impact productivity.
Engine Inspection
Ask these questions during the engine inspection:
How does the engine sound? Knocking sounds coming from the engine can indicate wear. Unusual sounds or smoke can mean the engine is worn and can impact the trencher's functionality.
Are the engine components in good condition? Asses the oil quality and ensure there is enough lubrication. Check for dust in the air filter inlet.
What's the motor pressure like? Assessing the motor pressure can help indicate if the machine is operating efficiently. Check the pressure readings for a better indication. Poor readings can mean the hydrostatic pump is worn, leading to costly repairs.
Can you get an oil analysis? Checking the oil quality can indicate if the hydrostatic pumps are worn. Metal particles in the oil can indicate extensive damage.
Can you do a test run? The best way to test a trencher is by operating it. Test the controls and machine components' movement to understand their performance better. 
Maintenance History
Here are some maintenance questions to ask:
Are there scratches or dents on the body? Wear like scratches, dents and bumps on the trencher exterior can indicate neglect or previous damage.
Are the grease fittings in good condition? Poor lubrication of components like the idler can be a common reason for wear. Checking the grease fitting can indicate if the trencher is well maintained.
Can I see the maintenance or service records? The service history will indicate the maintenance quality. It's one of the best ways to check if a trencher was serviced on time and regularly. It can also identify upcoming service requirements.
Different Types of Trenchers
Understanding the different types of trenchers available can help you choose the best one for your situation. Here are some common types of trenchers:
Walk Behind Trenchers
Walk-behind trenchers can have less horsepower and work better in smaller areas. Drivers operate the walk-behind trencher manually. They move the handles and steer the trencher toward them as they walk. Walk-behind trenchers can be ideal for digging narrower or shorter trenches for laying pipes or cables.
Ride-On Trenchers
Ride-on trenchers can offer high horsepower and performance on tough terrains. They are larger than walk-behind trenchers and offer advanced drilling and digging capabilities. These trenchers work well on rigid surfaces like pavement and stones. Ride-on trenchers also have chain and teeth chain wheel variants. Operators can steer the ride-on trencher by using track controls.
Wheel and Chain Trenchers
Chain trenchers have large digging chains that look like a chain saw. They can be ideal for cutting large, narrow trenches. Chain trenchers can also work well in digging through tough dirt. Wheel trenchers can be less expensive than chain variants. They have a round blade that can go through hard, soft and silty soils.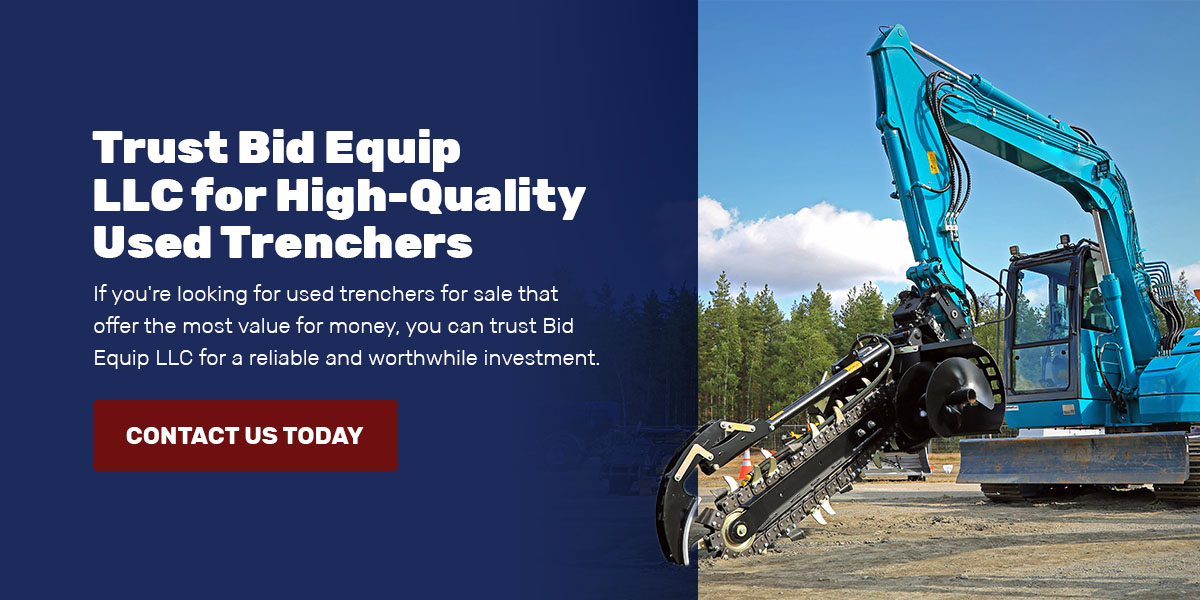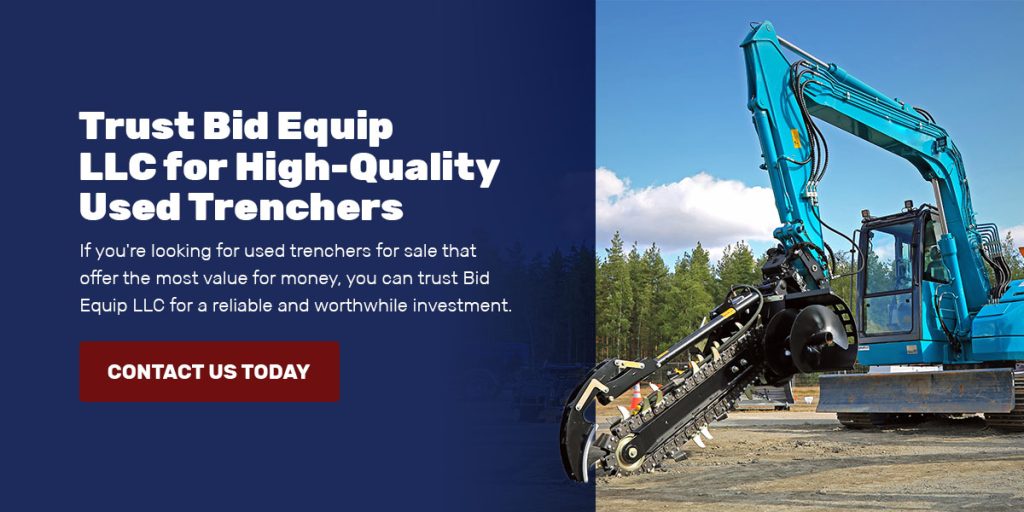 Trust Bid Equip LLC for High-Quality Used Trenchers
If you're looking for used trenchers for sale that offer the most value for money, you can trust Bid Equip LLC for a reliable and worthwhile investment. We understand that buying construction machinery is a big decision and investment. That's why we offer a full video inspection on all our machines so that you can validate your trencher quality and performance.
We can also deliver your trencher via our sister company, Equip Trucking & Warehousing LLC, saving you more time and money. With our efficient buying process, you can browse our machinery online, including image and video inspections and place your bid. You can also opt for an in-person inspection at our warehouse.
Contact us today to get started with Bid Equip LLC.
Share: