Tips for Buying Used Metalworking Machinery

Construction companies and business owners often need to add more metalworking machines to their inventory. Whether you need additional lathes, milling machines, skid steers or anything in between, extra machinery can help expand your company and meet new project requests.
One way to expand your inventory is by purchasing used metalworking machines. Used machines are a cost-effective alternative to new machines, and you can find many machine options for sale. You can buy the equipment in person or through online vendors, such as through an online auction.
Read on for more tips on purchasing used machines and using online auctions.
The Benefits of Used Metalworking Machines
Buying used metalworking machines can have many benefits for your organization, such as:
Cost-efficiency: Used options almost always cost less than new ones, making them a cost-effective choice for your company. If you buy high-quality and well-maintained equipment, it could provide the same performance level as new pieces. You will pay a lower upfront cost, allowing you to allocate your organization's budget toward other expenses. You also avoid the depreciation loss of purchasing new equipment when new pieces lose their value after a few years.
Wide selection: Another advantage of buying used is the wide available selection. You can find nearly unlimited machine types, capabilities, brands and generations. For instance, you might use a particular lathe type and want to maintain this selection when you expand your stock. There are likely many used options available for the specific lathe type, but new ones might have different specifications.
Quicker integration: Newer equipment generations might have new technology or specifications that will require additional training for users, while your team will likely already be more familiar with used equipment types. You can quickly integrate the tools into your company and reduce downtime from extra training.
Questions to Ask When Buying Used Metalworking Machinery
While buying used machinery has many benefits, you should also take the proper precautions. You should perform proper research on the item and the vendor to ensure you invest in a quality item. By communicating directly with the seller, you can learn more about the equipment.
Asking questions like these can help prepare you for the purchase:
Why are you selling the machine? A great place to start is by asking the vendor their reasons for selling. Sellers might put items up for sale if they no longer have use for them, but they might also try to sell because the machine wasn't working correctly. When you ask ahead of time, you can understand the vendor's reasoning and decide if it impacts your buying decision.
How old is the machine? Next, you should inquire about the equipment's age. Age can inform you whether a manufacturer's warranty still applies to the equipment, which assists with repair costs later on. You can also research the equipment's generation and learn if it suits your needs.
How often did you use the machine? Operators use metalworking machines for a wide range of applications. Asking about its typical use can help you determine the machine's durability.
What is the machine's condition? You should also ask for pictures and further information on the equipment's condition. Images can help you see the exact specifications and appearance of the equipment. For instance, your seller might report favorable conditions, but pictures might display further wear.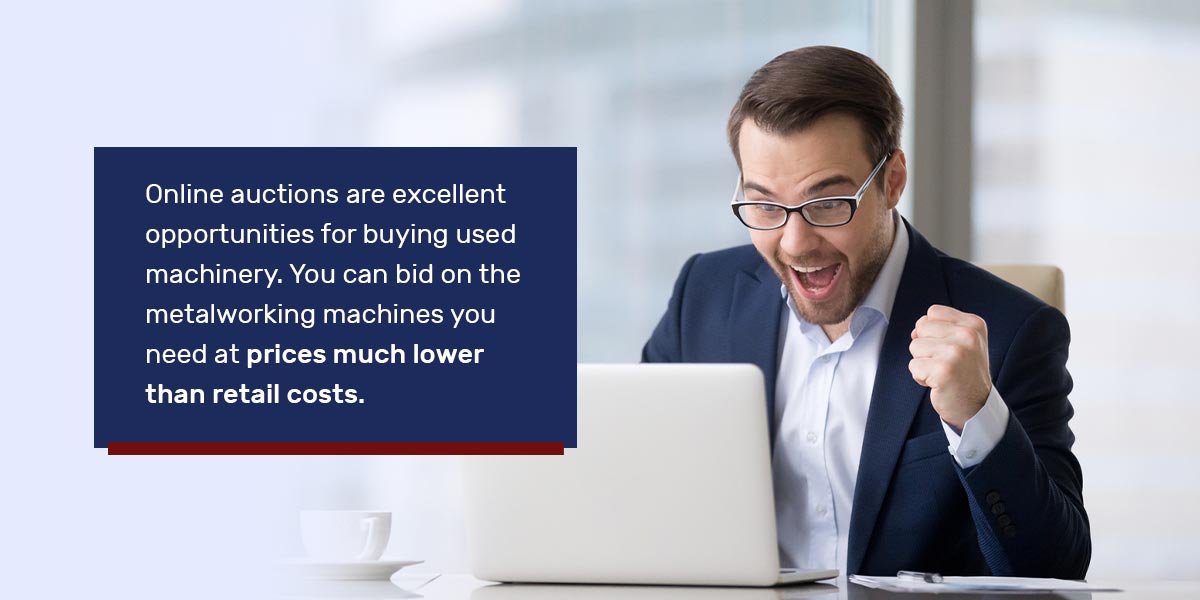 5 Tips for Buying at Online Metalworking Machinery Auctions
Online auctions are excellent opportunities for buying used machinery. You can bid on the metalworking machines you need at prices much lower than retail costs. Auction providers work hard to test equipment and ensure it's ready for reuse. And they can help with shipping and distribution of the machinery.
If this is your first time participating in an auction, it's best to research the process before you begin. Here are some tips for online metalworking machinery auctions:
1. Research the Website's Terms and Conditions
A wide range of online vendors are available, and each has different terms for their auctions. Once you decide to use an online auction system, you should narrow the options down to a specific website or provider. Then, read their terms and buying policies carefully before the auction begins. You should be able to find this information on their website. Studying their policies beforehand can help you feel more confident about the sale and prevent you from making mistakes during the process.
2. Decide Which Machines You Want
Next, decide on a machine before committing to an auction. You should have a particular equipment type in mind before you start browsing the auction host's website. This planning will help you stay on track for your buying goals and narrow down available auctions. For instance, you might seek a specific brand, year or model of metalworking machine. Then, you can filter auction sites by looking for this particular equipment piece.
3. Establish a Budget
Budgets are essential for auctions, where the price continues to rise incrementally. You should prepare a basic budget before investing in an auction. It's helpful to research the value of your equipment, then use this amount to conceptualize your average spending.
These are some other tips for budget building:
Calculate typical overhead costs: Like with any investment, you should consider your recurring costs before committing to a significant expense. Determine your disposable income and how much you can put toward the new equipment. Luckily, used machinery has a lower overall cost than new pieces.
Set a price limit: It's also important to set a maximum price for the auction. Think about how high you're willing to go for this machine, then stick to that cost firmly. This plan can help you maintain your initial budget.
4. Monitor the Bids
Once the online auction begins, monitor its status closely. By keeping a close watch on bid progressions, you can remain an active participant in the auction. Bids can rise quickly, and you should keep track of competing buyers and prices. Once someone offers a higher price than yours, you will have to either raise your price or drop out of the event.
Many auction providers alert you of changes in bidding or if someone has outbid you. They might also provide information on the next minimum bid you would have to make to stay competitive.
5. Remember the Deadline
Many online auctions only occur for a certain number of hours or days. Once you place a bid, take note of the final deadline and remember to check in regularly. If you win the auction, your provider should inform you of the next steps for payment and shipment.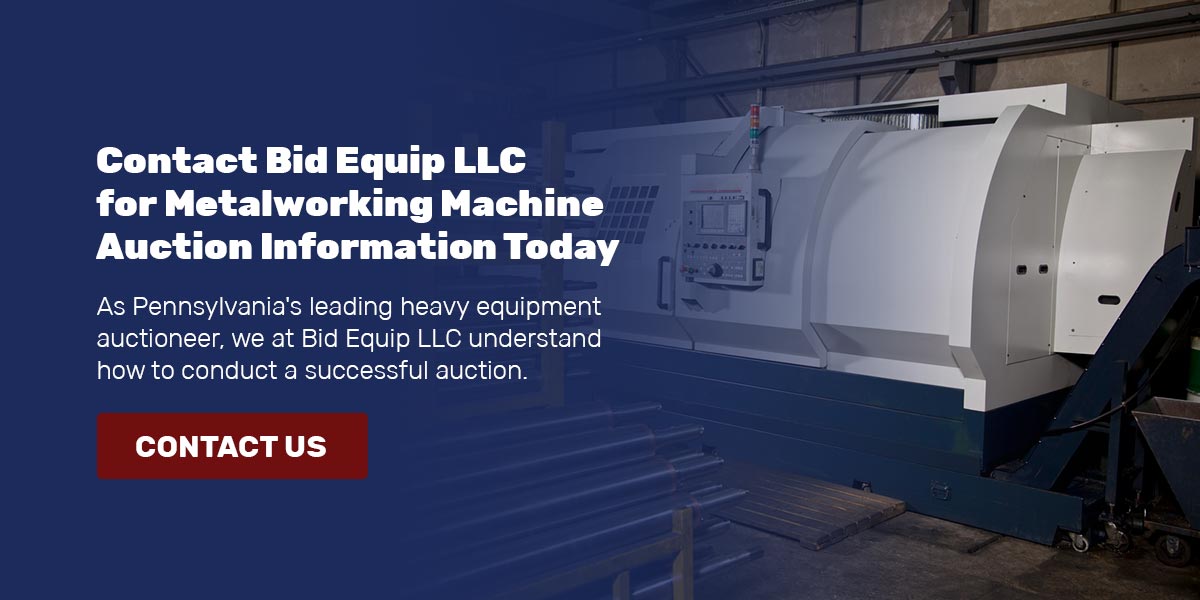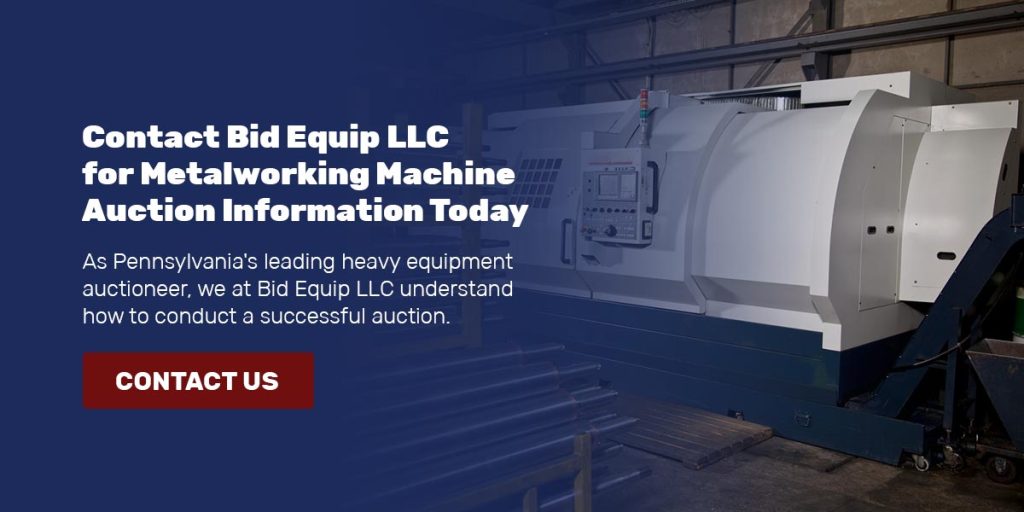 Contact Bid Equip LLC for Metalworking Machine Auction Information Today
Purchasing machinery through an online auction is an excellent way to broaden your inventory. As Pennsylvania's leading heavy equipment auctioneer, we at Bid Equip LLC understand how to conduct a successful auction. For over 20 years, our metalworking machinery auctions have been the perfect opportunity to expand your metalworking machinery fleet. We put each equipment piece through rigorous testing to ensure it's ready for use. And our dedicated team can help you find the best machine type for your company and applications.
To get started with Bid Equip LLC, contact us today.
Share: