Skid Steer Buying Guide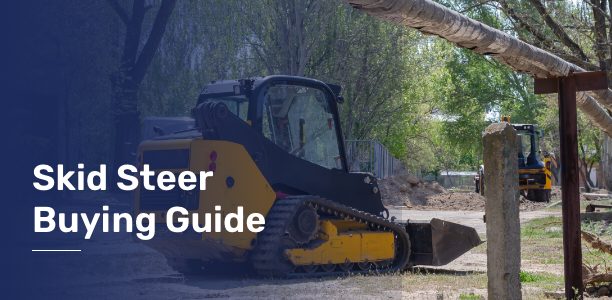 A skid steer is a small, versatile piece of construction equipment with four wheels or two treads and some type of work tool attachment, and they're invaluable for meeting the digging and hauling needs of construction and landscape professionals. They typically include a variety of attachments like buckets for a range of purposes. A skid steer's wheels are fixed and use differential steering, meaning you can only steer the vehicle by speeding up either side, which causes the opposite wheels to drag or skid across the ground.
While they typically include a bucket, they also accept a range of other attachments for many different uses. Construction companies typically use skid steers for the following purposes:
Trenching and excavating: Attachments like backhoes, augers and trenchers make a skid steer an ideal piece of equipment for moving earth.
Clearing snow: Skids steers are especially effective at clearing snow, especially with a bucket, snow blower or snow blade attachment.
Construction and landscaping: Attaching a cement mixer or pavement filler makes a skid steer perfect for construction jobs. You can also add stump grinders and wood chipping attachments for landscaping purposes.
A skid steer can be a great investment for your business when you get the right model and attachments. Before you settle on a machine, make sure you know what to look for when buying a skid steer and whether buying a new model or finding a used skid loader at auction is the better fit for your needs.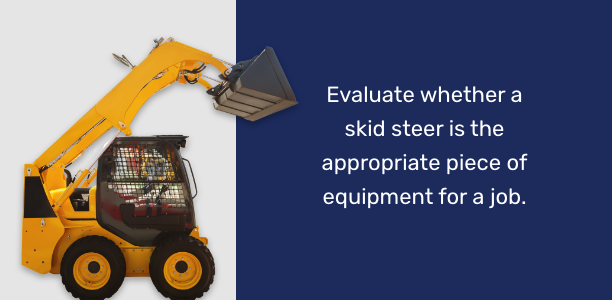 What to Consider When Buying a Skid Steer
When choosing between the used skid steers you see for sale, you should first consider your job specifications. Evaluate whether a skid steer is the appropriate piece of equipment for a job. For example, if you need to level many hills or create large piles of material, a bulldozer will likely work better.
If the task calls for a skid steer, you'll then need to determine which type you need. Different jobs will require various-sized models with various lift and reach capacities. Consider whether you're working on ground level or will need a machine with some reach, such as when unloading material into a truck. After choosing the proper model, you should then select attachments.
Size
Workers use multiple skid steer sizes for different jobs. The most common sizes include:
Small-frame: These skid steers weigh less than 1,750 pounds and have less than 50 horsepower. They're lighter and more maneuverable for access to small spaces, making them ideal for precision jobs.
Medium-frame: Medium-frame skid steers weigh between 1,750 and 2,200 pounds and have between 50 and 70 horsepower. Medium-sized skid steers can handle heavier jobs in tight spaces. However, they're still light enough to drive over asphalt or concrete without damaging it.
Large frame: Large-frame skid steers, the most powerful type, weigh 2,200 pounds or more and have at least 70 horsepower. These skid steers are heavy enough to handle larger-scale demolition and excavation.
Lift Height and Reach
When selecting a skid steer loader, you should consider the equipment's radial and vertical lift:
Radial: These machines have greater forward reach, making them ideal for dumping materials over walls and flatwork jobs requiring greater push capacity. At maximum height, a radial skid steer has reduced reach.
Vertical: Vertical skid steers can lift heavier loads to greater elevations. They keep the load closer to the machine and have more reach at the maximum height. Vertical skid steers are better at lifting and placing heavy pallets and clearing high areas.
Type of Attachments
You can use skid steers for many applications, including landscaping, excavating, digging and clearing snow. Using different attachments is crucial for companies to maximize their skid steer's versatility.
Popular skid steer applications include:
Buckets: Buckets are a standard skid steer attachment, as they're highly versatile and can handle a variety of uses. Bucket attachments include low-profile, snow sifting and four-in-one models.
Blades: Companies typically use dozer blades for digging and earthwork, or to level concrete or asphalt.
Forks: Forks consist of flat-steel struts that can slip under objects or inside pallets. Typically, forks are used in truck-loading or warehouse applications.
Augers: An auger is a corkscrew-shaped attachment ideal for drilling and post digging. Depending on soil conditions, you can choose between direct-drive and planetary-drive.
Grapples: Rather than supporting a load, a grapple grips it. Grapples are especially beneficial when your company has to handle irregularly shaped loads like roots, logs, stacks of bricks or boulders.
Brooms: A broom attachment can help clear concrete surfaces covered with dirt or debris.
Brand
Although selecting the correct type of equipment and attachments is crucial, you should also consider the different brands of skid steers. Be open to exploring equipment from various brands and manufacturers, and check multiple customer reviews. Knowing a company's reputation will help ensure the product you buy is reliable.
If you're a fleet manager, you may want to consider selecting equipment from the same manufacturer so any parts or attachments you buy will be interchangeable. Having interchangeable parts saves warehouse room, as you won't have to store many components from different brands. Plus, some brands include fleet performance management software, so ensuring your equipment is from the same manufacturer can save you a headache during fleet monitoring and service requests.
Buying a Used Skid Steer
Buying a used skid steer has many benefits, such as a lower upfront cost and a wide range of models and generations to choose from. Companies on a tighter budget can see substantial benefit from buying used skid steers, allowing them to invest in other growth opportunities. Choosing to buy a used skid steer is also more environmentally responsible, as you're lengthening a piece of equipment's life span and lowering demand for new materials.
When selecting a used skid steer, you should consider the following:
Review history and log hours: The first step when buying a used skid steer is to ask about its history. You should consider how many people have owned a piece of equipment, the total miles and operating hours, and what maintenance it has received over its lifetime. Infrequent or inadequate maintenance reports could potentially cause more issues down the road. You may want to ask where and how the previous owner used the skid steer, as harsher weather conditions can cause more wear and tear.
Conduct an inspection: While you may want to consider having a professional come along to inspect a used skid steer, you should also conduct a visual inspection to check for signs of wear and tear, including scuffs, cracks, dents, signs of rust, old or dirty oil in the engine or transmission, poor tire condition, or worn cables or welds. You should also inspect a piece of equipment to ensure the windows, lights, battery, seatbelt and steering features are all in working condition.
Request a demo: If possible, requesting a trial period for a skid steer can help you ensure the equipment is functional, safe and comfortable.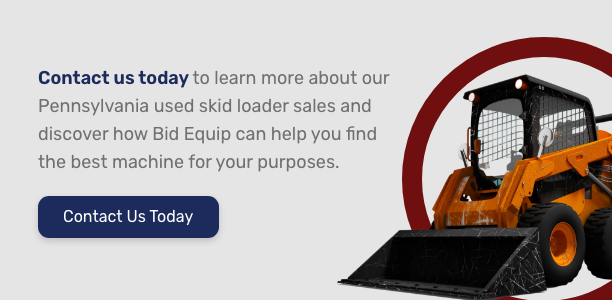 Buy Used Skid Steers With Bid Equip
If you're looking for used skid steers for sale in Pennsylvania, you've come to the right place. Bid Equip LLC holds monthly heavy equipment auctions for skid steers, forklifts and metalworking machinery. Each piece of equipment undergoes extensive inspections to ensure premium functionality. Review our online skid steer auction options, browse the industries we serve or view upcoming auctions to buy the best skid steers for your application.
Contact us today to learn more about our Pennsylvania used skid loader sales and discover how Bid Equip can help you find the best machine for your purposes.
Share: