Questions to Ask Before you Buy a Used Crane

How Much Is a Crane Worth?
The value of a crane can depend on many factors, like its condition, mileage and size. Newer model cranes can offer more advanced safety and technological features that increase their worth compared to older models and those with more basic features.
A crane with high-quality and innovative features that aligns with your project requirements can be a worthwhile investment. While you may pay more, you can benefit from efficient functionality and an extended life span.
Questions to Ask Before You Buy a Used Crane
As a business owner, you want to make informed decisions before purchasing a crane. Here are some questions to ask before buying a used crane:
How Much Is a Crane Worth?
The value of a crane can depend on many factors like age, size, lifting capacity, model and condition. It can also depend on several features like safety and technology. Working conditions and maintenance history can also play a role in determining the value of a crane.
How Do I Choose a Crane?
Choosing a crane can depend on your project needs. You can use a crane for projects like constructing a high-rise building or carrying heavy loads. Ensure you choose a crane with lifting capacity and height requirements suitable for your task.
Accessibility is also an essential factor — choose a crane that can access your project site, especially when working on rough terrain. Consider your budget and how to get value for your money. The right crane can serve as a valuable and worthwhile long-term investment.
How Much Is It to Buy a Crane?
Like vehicles and bikes, the price of a crane can vary. Newer cranes in excellent condition and offering advanced features will cost more than older models with more mileage and wear. Cranes can also have advanced hook designs and remote control functions that impact the final price.
What Are the Factors to Consider When Selecting the Right Crane?
Consider the following when selecting your crane:
Environment: Consider the terrain or environment you will use your crane, project type, lifting capacities and height requirements. The landscape you work on can help you choose a suitable crane support structure.
Frequency of use: Consider how often you will use your crane and if you require a model built for constant rigorous work. You also want to consider whether you need low or high-capacity cranes for various projects.
Height and accessibility: If you are working on building construction, it's also essential to consider suitable height or accessibility requirements.
Mechanics and safety: Consider the exterior and interior functionality of the crane. Check for signs of wear, like worn cables, dents and rust. You also want to consider the safety of the crane and ensure that it is free from issues that can compromise your or others' safety. Check if the crane's mechanics comply with the latest safety standards and requirements.
How Do I Choose a Crane Capacity?
Choosing your crane capacity can require working out your most extensive lifting and load requirements and ensuring you select a crane that can lift that load. It would be best to work out the maximum radius or distance you will cover. Consider the type and quality of the terrain you will work on, like a smooth or rough gravel surface. Choose a crane with suitable lifting capacity and support for your specific landscape.
What Makes a Suitable Crane?
You can determine the quality of the care by evaluating the crane's history. Ask a professional to check the age, maintenance history and previous working conditions. Perform a visual inspection to check the crane's body for issues like dents, scratches, signs of rust and worn cables is also essential. You also want to ensure that the crane's features, like lift capacity, accessibility and height capabilities, align with your project requirements.
How Do I Buy a Crane?
Whether you buy your crane from a dealer or auction company, purchase it from a reputable name. Many dealers or auctioneers can offer you thorough background and history on a used crane. Do your research and inspect before buying to make an informed decision.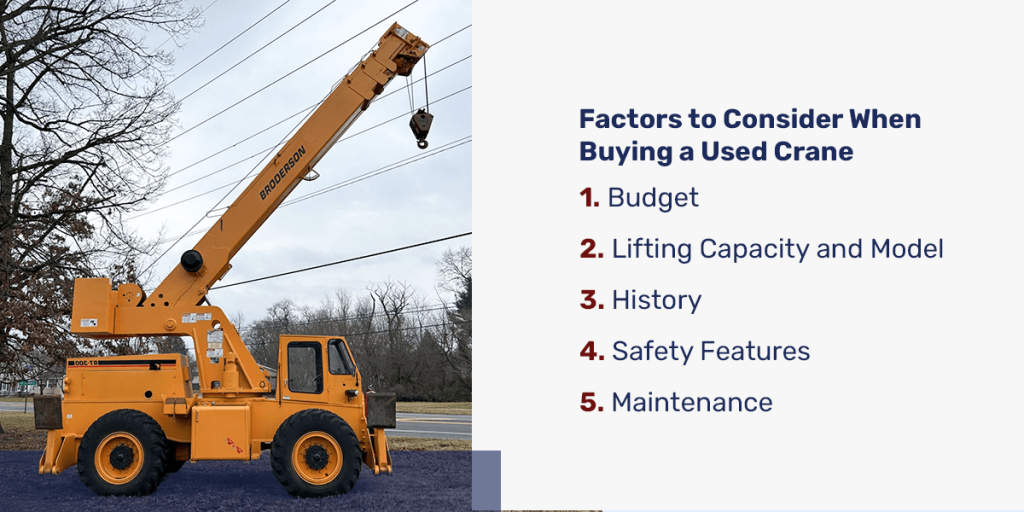 Factors to Consider When Buying a Used Crane
Here are some factors to consider when buying a crane.
1. Budget
Consider planning your budget around the complexity of your project. The age, condition, safety and technological features can influence the price of a crane. Whether you're a business owner or construction manager, you have specific project requirements to fulfill. You will pay more for a used crane that is in perfect condition, has innovative features and has a good track record, but you'll save in maintenance and repair costs down the line.
2. Lifting Capacity and Model
Consider your maximum lifting requirements and select a crane that will support those requirements. Asses the terrain you will frequently use your crane on, like gravel or rough road, and decide which crane model is most suitable. Complex landscapes can require specialized crane types like a used rough terrain crane. Ensure you choose a lifting capacity and model to make your project more efficient.
3. History
You want to ensure that you have a detailed history of a crane's previous uses. It's necessary to assess the conditions in which a crane was used, like the weather and terrain. History can help evaluate the overall condition of a used crane and will also inform you of any possible damage and wear affecting its functionality.
4. Safety Features
You want to ensure you and your staff's safety on site. Inspect the safety features of your cranes and ensure that it is free from damage that can compromise the safety of others. You also want to ensure your crane complies with up-to-date safety regulations and requirements.
5. Maintenance
Both new and used cranes require maintenance. Setting a consistent service schedule can catch problems before they progress and reduce the impact on your workflow.
Different Crane Types
Here are some crane types to consider for your project requirements.
Mobile Cranes
Mobile cranes offer various mobility features, like horizontal and vertical moments. You can use mobile cranes on a job or project site that requires moving goods from one place to another, and you can mount a mobile crane on a truck, boat or railcar. Mobile cranes also have outriggers that prevent them from flying over. Two kinds of mobile cranes include rough terrain and crawler cranes.
Static Cranes
You install static cranes permanently on your job site. They can lift heavier loads than mobile cranes and move along fixed paths. Stationary cranes can work well in pre-determined tasks and have less flexibility than mobile crane types. Tower, hammerhead and self-erecting cranes are types of static cranes.
Buy Used Cranes With Bid Equip LLC
You've come to the right place if you are looking for high-quality and dependable used cranes for your business or job. Bid Equip LLC is a trusted name in heavy machinery services. We host monthly heavy equipment auctions for cranes, forklifts, skid steers and other metalworking machinery in Pennsylvania. We also offer a convenient online auctioning service that makes purchasing heavy machinery or equipment easy. All of our cranes go through inspections to ensure superior quality and functionality. Browse our online heavy equipment auction options.
Contact us today to get started with Bid Equip LLC.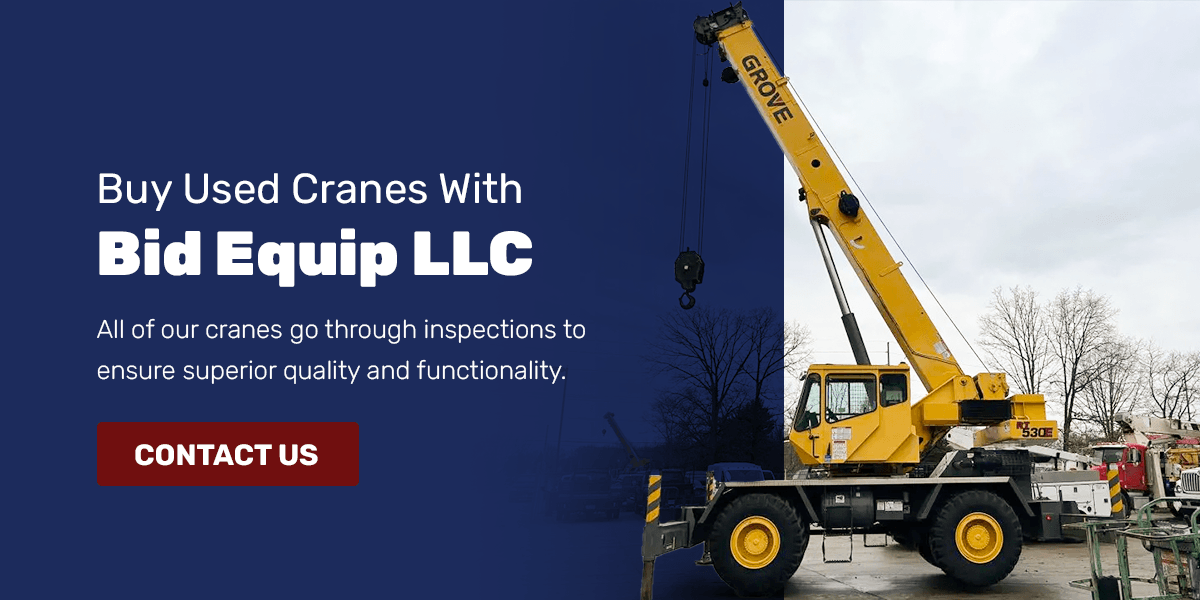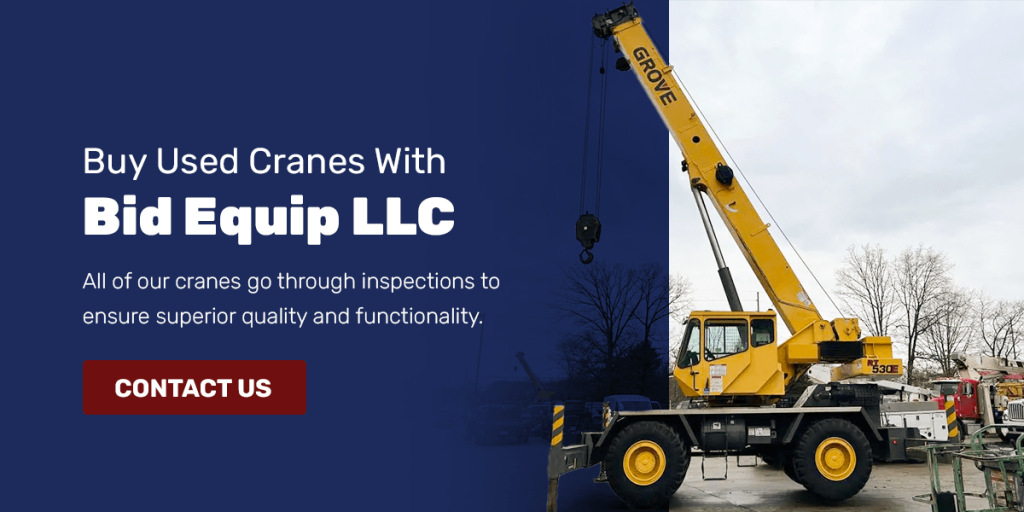 Share: