Guide to the Different Types of Forklifts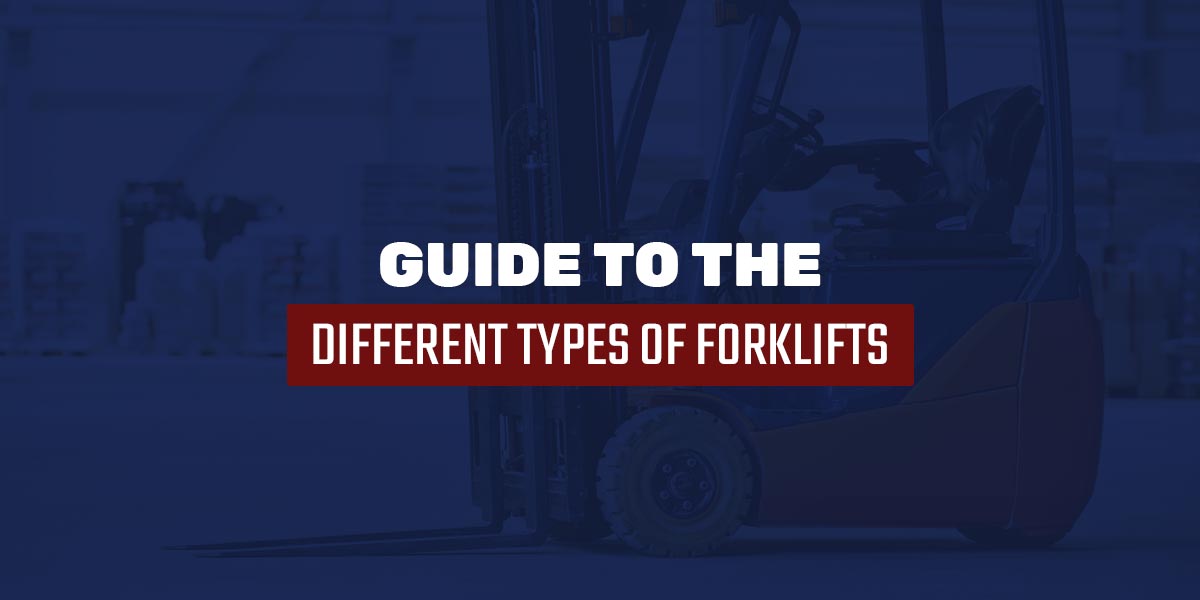 Are you looking for a new forklift for your operations? Depending on what you do, you could need a standard warehouse forklift or something more heavy-duty. It's essential to research what machines will work best for your industry and application before purchasing. Check out this guide on forklift types, classifications and attachments to ensure you're informed before you buy.
Types of Forklifts
While there are numerous kinds of lift trucks on the market, these are some of the most common types of forklifts used in warehouses and industrial or manufacturing facilities:
Warehouse forklift: The different types of warehouse forklifts all have two forks on the front. They work well for facilities with large amounts of inventory, making loading and unloading pallets and trucks easier.
Side loader: An operator stands inside a compartment off to the side opposite the loader. This design makes it easy to drive a forklift close to racks, allowing rapid loading and unloading without needing to turn.
Telehandler: Telehandlers have a telescopic arm used to reach or place loads at higher elevations and are often used in outdoor applications.
Heavy-duty forklift: A heavy-duty forklift can lift materials much higher than a standard forklift and is a great option for industrial work.
Though these well-known lift trucks are suitable for many material handling roles, you may also need other forklift types for more specialized operations.
Forklift Attachments
Forklifts are highly versatile because many models are compatible with a variety of attachments. Some popular lift truck accessories include:
Bale clamps: You can attach hydraulic bale clamps to your forklift instead of the tines and carriage, making it easier to lift baled materials.
Buckets: Attaching a bucket to your lift truck allows it to work much like a mini loader.
Fork extensions: Fork extensions help extend your reach by fitting over the existing forks.
These are only some of the numerous forklift attachments available for your equipment. Browse different options to find what's best for your operations.
Forklift Classifications and Sizes
You can also shop for lift trucks via classification. There are currently seven forklift classes:
Class I: Electric motor ride trucks
Class II: Electric motor narrow aisle trucks
Class III: Electric motor hand trucks
Class IV: Internal combustion engine trucks with cushion tires
Class V: Internal combustion engine trucks with pneumatic tires
Class VI: Electric and internal combustion engine tractors
Class VII: Rough terrain forklifts
You can also look for forklifts by size. Most standard forklifts are between 4 and 7 feet wide and 8 to 10 feet long, with heights between 10 and 15 feet. However, there are some types of forklifts that are considerably larger.
Why Buy Material Handling Equipment at Bid Equip?
Bid Equip has a huge warehouse filled with industrial equipment you can purchase. We provide video inspections for every machine, plus the option to come to check out our listings in person.
If you see a machine you want, you can submit a bid through our online forklift auctions. Bid Equip can also deliver your equipment if you are within three hours of our warehouse in Philadelphia.
Contact Bid Equip Now and Start Bidding
If you need a new forklift — no matter the size, classification or type — start shopping at Bid Equip. With our large inventory, video inspections and delivery for anyone near Philadelphia, you can trust us to get you a reliable machine.
Contact us online to learn more about our selection or services.
Share: