4 Tips for Bidding at Metalworking Machinery Auctions

Metalworking machinery is a significant investment, so shops of any size stand to benefit from a way to purchase machines on a budget. Mills, lathes and similar equipment are made to withstand extended use and provide a long service life. The long-term usability of these resources means there is a robust secondhand market where buyers can find used metalworking machines being sold for far less than they cost when new.
Equipment auctions are among the most convenient ways to buy used machinery. However, getting a good deal at an equipment auction requires some knowledge of the process and an awareness of exactly what you're buying. Before you get ready to bid, consider a few tips on buying used metalworking equipment from the Bid Equip team to ensure you get the most out of your investment.
1. Explore All the Benefits of Used Metalworking Machines
One major benefit of pre-owned metalworking equipment is that it tends to retain its value, as it's already undergone its initial depreciation after being sold new. Between that and its already lower upfront price, secondhand machinery typically gives you a substantially lower total cost of ownership.
In this industry, you can expect a high degree of performance even when you buy used. Metalworking machines and their uses are incredibly diverse, but because they must withstand vibration, heat, force and other challenges in their daily operations, they're made to last. Many machines have the potential to perform for decades, and if a well-made model is properly cared for, it can deliver a level of quality and precision virtually indistinguishable from newer equipment.
Additionally, finding a pre-owned metalworking machine up for auction could make it much easier to get the other resources you need for your work. Auctions are often the result of an established enterprise shutting down or changing its business strategy, so there may be many items up for sale. In these cases, you'll likely have the opportunity to bid on the machine's accompanying tooling or accessories, perhaps even in a single lot with the unit itself.
In light of the cost of new machining tools — even a single carbide cutter can cost hundreds of dollars — the opportunity to pick up bundles of compatible used tooling with the machine is a major benefit of buying used. The machine may already be fitted with extras like a power feed, which you'd otherwise have to purchase separately on a new model, and you can start using it immediately after you take delivery.
2. Be Aware of Common Issues With Used Metalworking Equipment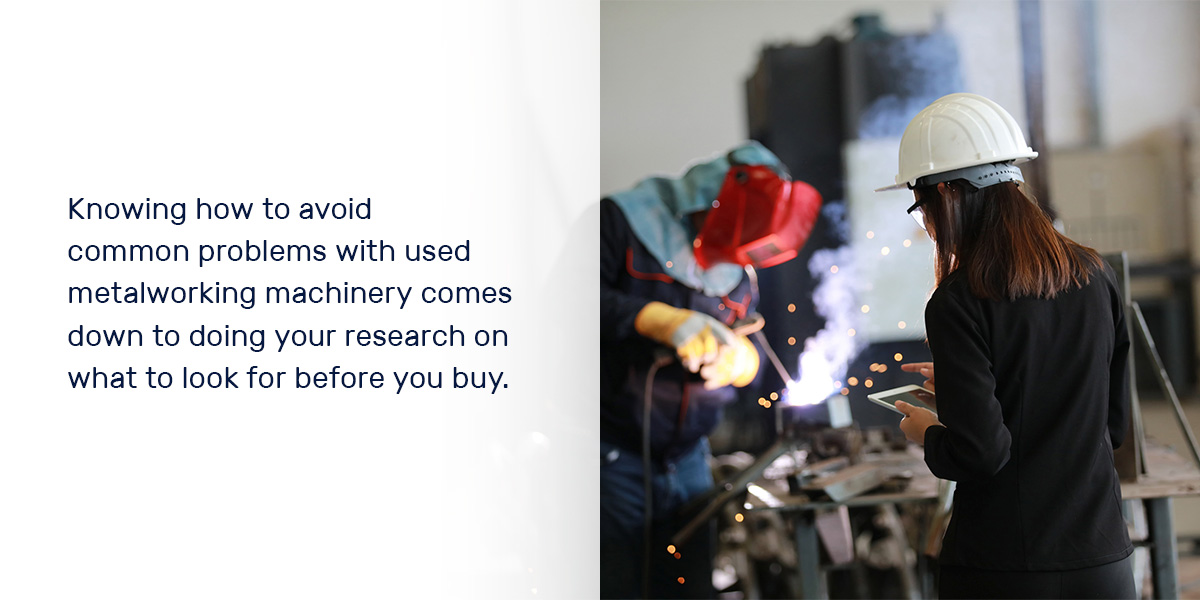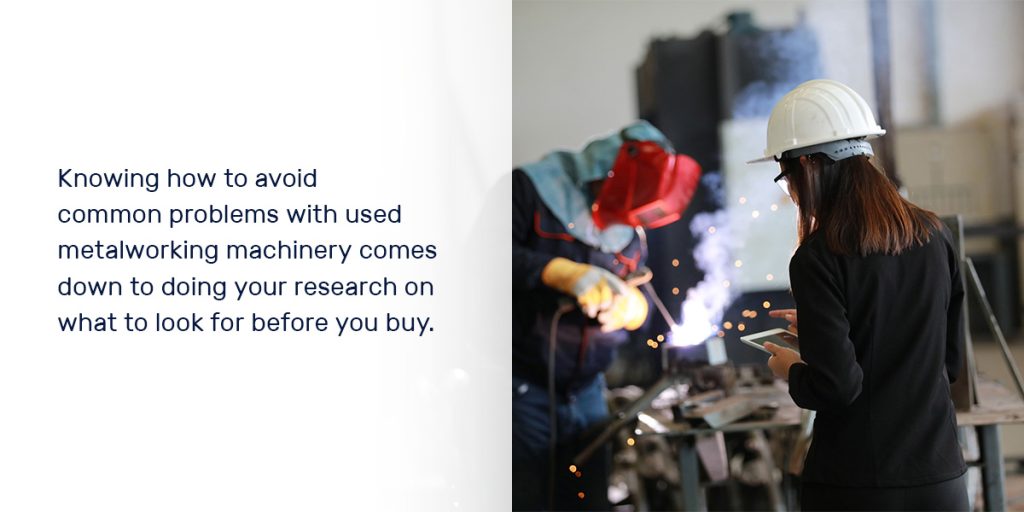 The operating conditions for metalworking machinery are inherently harsh, and the varied nature of the industry means some used machines will have worked much harder than others. For example, a mill that primarily cut steel will have been exposed to much more heat and vibration than one that was used solely for aluminum.
Similarly, operator error and work practices can have a significant impact on a machine's condition. An inexperienced user taking overly heavy cuts or running the machine at excessive speeds will stress the machine. A piece of equipment used for a single operation for months or years on end will have a high degree of wear in one area, while the remainder may be in mint condition. For example, used lathes will sometimes have greater wear to the ways near the chuck than closer to the tailstock.
Knowing how to avoid common problems with used metalworking machinery comes down to doing your research on what to look for before you buy. Be sure to investigate the lot thoroughly before bidding on a piece of used metalworking equipment. If possible, inspect critical surfaces like ways or tables, ask to see the machine run, and examine the motors, wiring and oil levels.
3. Always Ask Questions When Buying Used Metalworking Machinery
The quality and projected life span of a used machine depend heavily on what it was used for and how it was treated before it went up for auction. If you can, ask the seller these questions and weigh the answers carefully to determine if the machine is a wise investment:
How old is the machine and is it still under warranty?
Does the dealer still service and make parts for this model?
What materials did the machine cut?
Why is the machine for sale?
Are service records available?
In the case of used CNC machinery, be sure to ask if it requires any specialized software or file compatibility — some older models may not work with more modern CAD/CAM applications.
4. Take Advantage of Online Metalworking Machine Auctions
Even used metalworking machinery can be a substantial investment, so you'll want to learn as much about a listing as possible before bidding. At an in-person auction, however, you don't always have that opportunity. Unless you're fortunate enough to live near where the auction is held, you may be obliged to travel for the day of the bidding, giving you little time to examine the machine or talk to the seller. You'll also have to contend with any competing bidders present, so you may not get to perform a thorough evaluation.
With an online auction for used metalworking machinery, the lots are generally published well in advance of the auction date. This ample notice gives you plenty of time to explore every listing, and the auction company will have the relevant details of each lot neatly laid out for you. Many companies will provide high-definition photos, videos and supporting documentation upfront, so there's a good chance that many of your questions already have answers available.
At Bid Equip, prospective bidders have the opportunity to visit and closely examine machinery in person to confirm whether they're interested in bidding. If so, they can then bid and pay entirely online and coordinate delivery at their convenience.
Explore Used Metalworking Machines for Auction From Bid Equip
Bid Equip's auctions for used metalworking machinery are excellent opportunities to find capable used equipment without overextending your budget. We provide a full video inspection for every machine to ensure you know exactly what you're bidding on.
Our close proximity to Philadelphia International Airport makes it easy to visit us for an in-person evaluation. If you're located within three hours of Philadelphia, we can even organize transportation via our sister company, Equip Trucking and Warehousing, LLC.
Learn more about our metalworking machinery sales in Pennsylvania or check out our upcoming auctions to see our extensive range of used equipment that will be available for bidding. You can also contact our team online or at 484-494-6846 with any questions.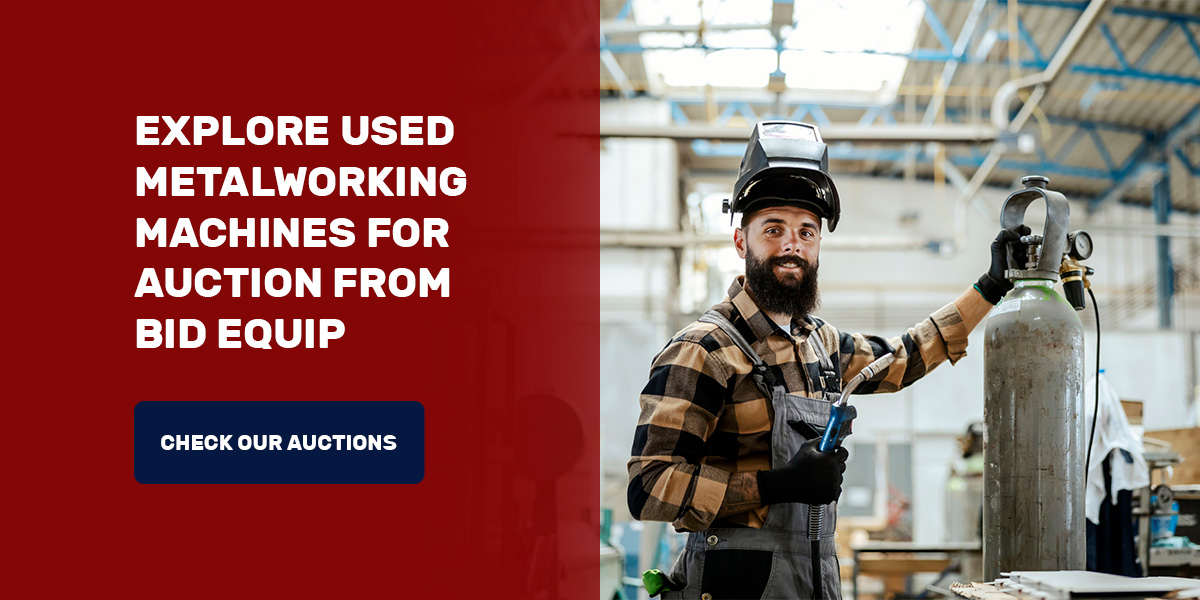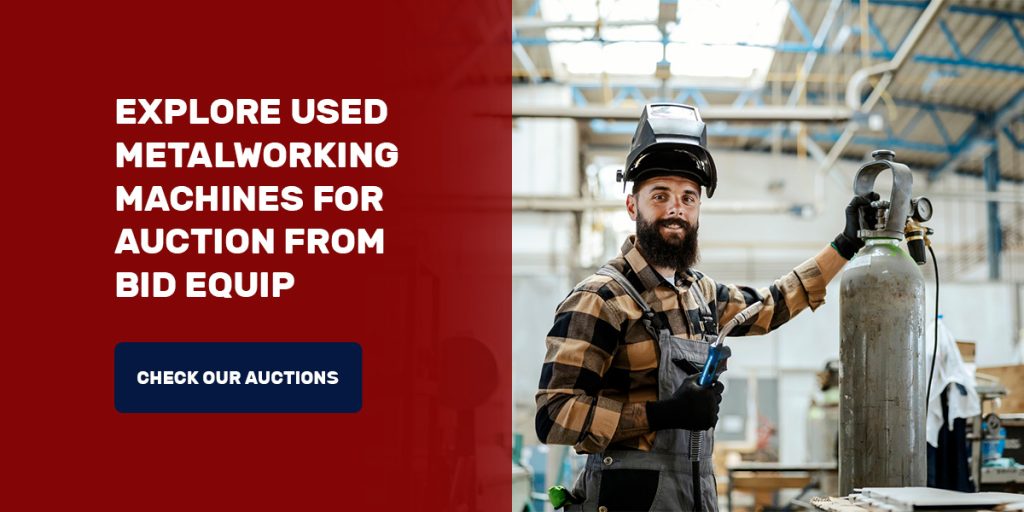 Share: